Rhubarb Crisp is an easy and tasty recipe that is perfect to use up plentiful garden rhubarb in the spring and early summer.
I have been trying to grow growing rhubarb in my backyard for the past 3 years. Until this spring, it has been unsuccessful. I started with two plants in a weedy garden bed at the side of my backyard, but for whatever reason, they never thrived. Maybe it was the weeds, or a lack of sunlight, or the muddy, poor draining soil they were in.
Finally, last year I moved the one plant that survived to a sunnier/less weedy and muddy spot, and it has been doing well ever since. At the same time, I bought a new plant and planted it in the front yard. Neither one of them are like the gigantic patches I had at my old house, but at least there was enough to harvest to make a batch of Old Fashioned Rhubarb Crisp.
This recipe comes from my grandma, in the form of a photocopy of a barely legible handwritten recipe, written in her handwriting. Both her and my mom have been making it for years, and as soon as I had my own rhubarb to cook with, I started making my own version. I made three main changes to my grandma's original recipe.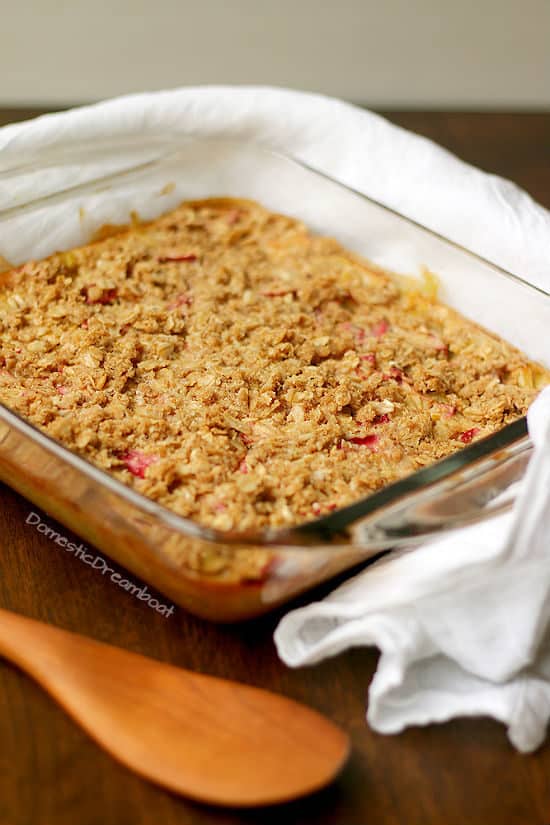 The first was a matter of preference to me: I wanted a higher filling to crumble ratio, so I cut the recipe for the oat crust/crumb topping in half without changing any of the amounts for the filling recipe. That change was a carry over from my mom as that's the way she always made it (though in her case, she doubled the filling recipe and made the whole thing in a bigger dish).
The second change was to make the crisp gluten free, at least to those who can tolerate oats. Instead of using flour in the crust along with the oats, I simply ground some of the oats into a flour like consistency to give the crust the texture I was looking for. Added bonus: it simplifies the ingredient list by cutting out one extra ingredient, and adds a little more fiber compared to using all purpose flour.
The final change I made was the use of Greek yogurt. My grandma's rhubarb crisp recipe (as do most of her recipes) called for sour cream instead. Since Greek yogurt became mainstream, I almost never use sour cream for anything anymore. I just don't keep it on hand, and I substitute Greek yogurt instead. It's typically lower in fat, and higher in protein and in most cases, I don't notice a change in the results. This recipe is no exception. You can use vanilla Greek yogurt instead of plain, but you may want to cut down the sugar in the recipe to avoid going overboard on sweetness.
Want more Rhubarb recipes?
Rhubarb Crisp Nutrition Notes:
This recipe for rhubarb crisp is gluten free, to those who follow a gluten free diet but can tolerate oats. If you are making this for someone on a gluten free diet, make sure to use "pure" oats that have not been cross-contaminated with any sources of gluten. This recipe can be made vegan if you substitute vegan (dairy free) margarine and dairy free yogurt (like coconut or soy yogurt).
Old Fashioned Rhubarb Crisp
Rhubarb Crisp is an easy and tasty recipe that is perfect to use up plentiful rhubarb in spring and early summer.
Ingredients
Crumb crust and topping
1

cup

rolled oats,

divided

1/2

teaspoon

ground cinnamon

1/4

cup

brown sugar

1/8

teaspoon

salt

4

Tablespoons

unsalted butter,

cut into half inch pieces
Rhubarb Filling
1

cup

granulated sugar

3

Tablespoons

cornstarch

1/2

teaspoon

cinnamon

1

large

egg,

lightly beaten

1/2

cup

plain Greek yogurt

1

teaspoon

vanilla extract

3

cups

rhubarb cut into 1/2″ pieces
Instructions
Move oven rack to the middle position and heat oven to 325°F.

Grind 1/3 cup of the rolled oats into a flour-like powder using a food processor or spice grinder. Transfer to a medium bowl.

Add the remaining 2/3 cup rolled oats, cinnamon, brown sugar and salt to the bowl with the ground oats. Stir until combined. Add the butter and cut in with a pastry cutter or your fingers until the butter is distributed and the oat mixture forms clumps. Press 1/3 to 1/2 of the mixture into a 9×9″ baking dish or similar sized casserole dish. Reserve the remaining topping.

In a small bowl, whisk together the sugar, cornstarch and cinnamon. Set aside.

In a large bowl, whisk together the egg, yogurt and vanilla. Whisk in the sugar mixture until mixed. Fold in the rhubarb. Carefully pour the rhubarb mixture over the crumb crust into the baking dish. Sprinkle the remaining topping evenly over the top of the filling. Bake until the filling is set and the topping is golden brown, about 55-65 minutes. Cool for at least 20 minutes before serving. Serve warm or at room temperature. Serve with ice cream, whipped cream or vanilla yogurt if desired.
Nutrition
Calories:
255
kcal
|
Carbohydrates:
44
g
|
Protein:
4
g
|
Fat:
7
g
|
Saturated Fat:
4
g
|
Trans Fat:
1
g
|
Cholesterol:
40
mg
|
Sodium:
60
mg
|
Potassium:
190
mg
|
Fiber:
2
g
|
Sugar:
33
g
|
Vitamin A:
264
IU
|
Vitamin C:
4
mg
|
Calcium:
75
mg
|
Iron:
1
mg
Nutrition Disclaimer: I try my best to make sure the nutrition information I provide is accurate to provide you with the best information possible. However, due to ingredient discrepancies and other factors, the above nutrition information should be considered an estimation only.