These Flourless Chocolate Cookies feature a crisp exterior and fudgy, chewy center. They're quick and easy to make, no mixer needed!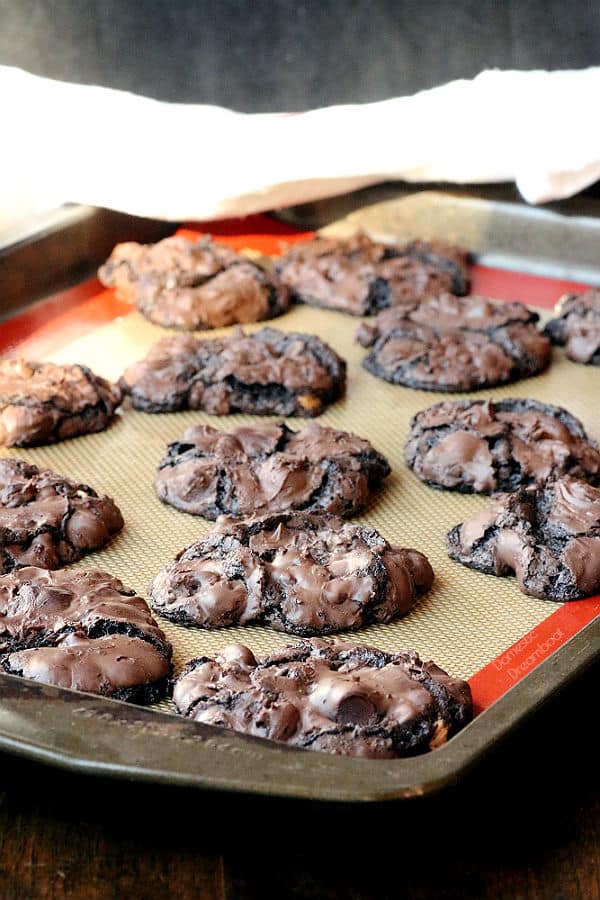 Out of all the cookies I've ever made (which is a lot if anyone is keeping track), I think these Flourless Triple Chocolate Cookies are the easiest. Usually when I make cookies, I dirty at least 2 bowls, wait for butter to soften, use a stand mixer, wait for cookie dough to chill, then finally (whew!) bake.
These ones are much quicker and easier, and can be in your mouth in under half an hour, tops. Plus, with these cookies, the ingredient list is short. It's really all about the chocolate.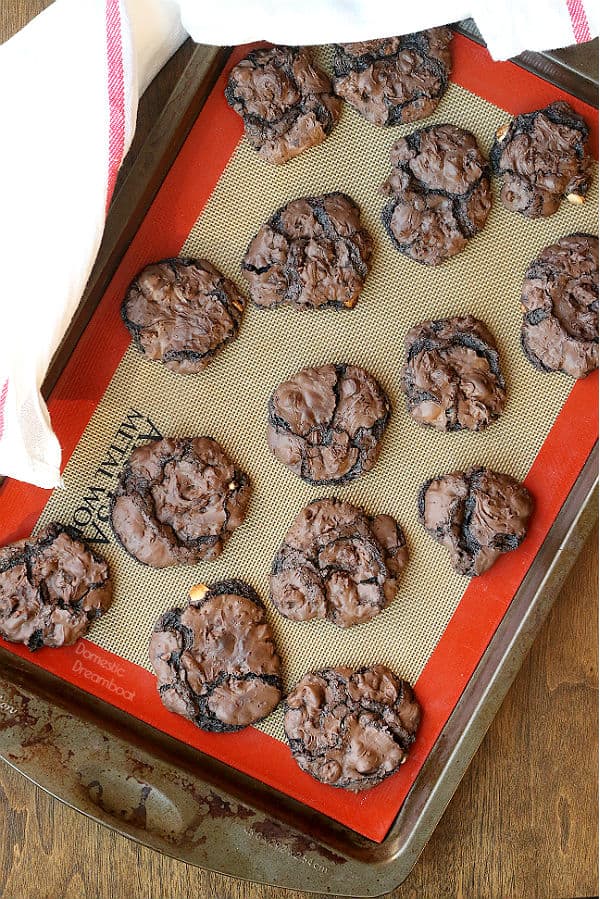 I first made a version of these cookies when I was trialing a gluten free diet, and loved them so much that I've kept making them. The process to make them is super simple. A little stirring is all that's needed.
The texture of these cookies is a bit unusual - they're chewy and fudgy on the inside, but crisp on the outside, almost like a meringue. Make sure to avoid overcooking them - in that case they will be crunchy all the way through, which is not nearly as enjoyable.
You can add whatever chocolate you want to these cookies. I use chocolate chips for convenience sake, but you could coarsely chop your favorite chocolate instead (Trader Joe's Pound Plus Bars would be good for that). My favorite combo is half semi-sweet and half milk chocolate, but when I made them for these photos, I used half semi-sweet and half white chocolate (my kids' favorite). Though I've never tried, I think using Skor or Andes pieces would work well too.
Flourless Triple Chocolate Cookies
These Flourless Chocolate Cookies feature a crisp exterior and fudgy, chewy center. They're quick and easy to make, no mixer needed!
Ingredients
1 ½

cups

powdered sugar

⅓

cup

cocoa powder

½

teaspoon

kosher salt

1

large

egg

1

teaspoon

vanilla extract

½

cup

semi-sweet chocolate chips

(see note)

½

cup

white or milk chocolate chips

(see note)
Instructions
Heat oven to 375°F and prepare two baking sheets (or cook in two batches) with parchment paper or a silicone baking mat.

Whisk together powdered sugar, cocoa, and salt in a medium bowl until combined. In a small bow, whisk together egg and vanilla until uniform.

Stir the egg mixture into the powdered sugar mixture. It will become a thick batter that resembles a thick chocolate frosting. Stir in the chocolate chips until incorporated.

Using two spoons, scoop the batter into 1 Tablespoon balls onto the prepared baking sheet at least 2 inches apart. Bake for 8-10 minutes, until the tops appear glossy and cracked. Do not over bake.

Allow the cookies to cool on the baking sheet for at least 10 minutes before eating or storing. Store in an airtight container at room temperature for up to 3 days if needed.
Notes
You can use any combination of chocolate chips you want, using a total of 1 cup of chocolate chips. I like using half dark and half milk chocolate chips the best. You could even use Andes bits for a mint chocolate flavor, or skor bits for a little toffee. Make sure to use dairy free chocolate if you need these cookies to be dairy free.
Nutrition
Serving:
1
Cookie
|
Calories:
100
kcal
|
Carbohydrates:
17
g
|
Protein:
1
g
|
Fat:
3
g
|
Saturated Fat:
2
g
|
Cholesterol:
10
mg
|
Sodium:
40
mg
|
Fiber:
1
g
|
Sugar:
15
g
Nutrition Disclaimer: I try my best to make sure the nutrition information I provide is accurate to provide you with the best information possible. However, due to ingredient discrepancies and other factors, the above nutrition information should be considered an estimation only.
Flourless Triple Chocolate Cookies Nutrition Notes:
The above nutrition info uses ½ cup bittersweet chocolate chips and ½ cup milk chocolate chips.
(Visited 128 times, 1 visits today)