Making your own flavorful chili oil at home is easy! This spicy condiment is great on Chinese foods or to add heat and flavor to any foods.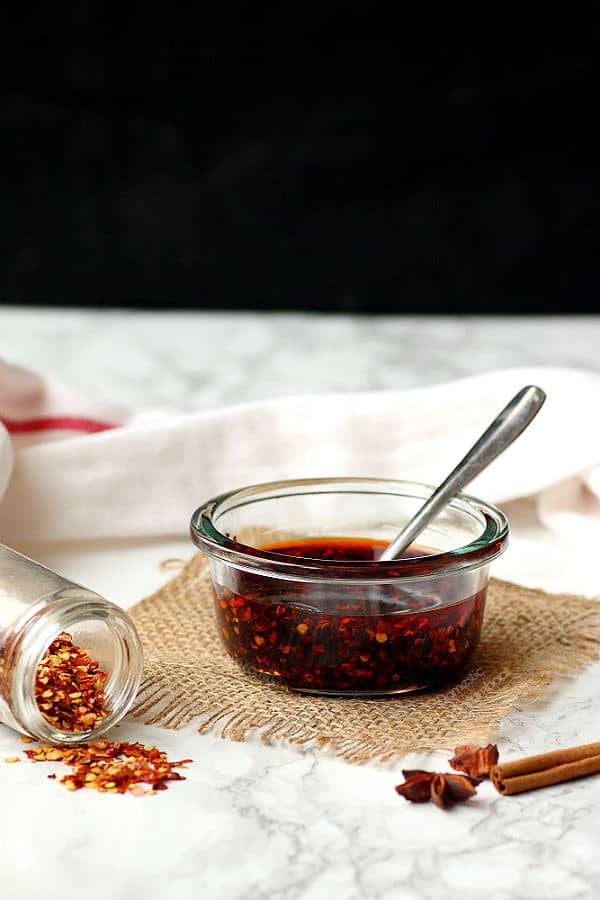 It's no secret that I love hot sauce. I regularly have at least 3 different types stashed around my kitchen, and actually, right now, I have 6. They're all different, and they all serve their own special purpose.
Included in the 6 is my newest hot sauce obsession, Chili Oil. It's not your typical hot sauce per se, but it's hot, and it's a sauce, so there you go.
What is chili oil?
Chili oil is a spicy condiment that's usually made from oil and crushed chili peppers. The chili flavor infuses into the oil, and the result is a spicy oil that's used to add flavor and heat to foods.
Chili oil may or may not contain other ingredients to add flavor, such as garlic, shallot, soy sauce or fermented soy beans, and/or spices.
It is commonly used as an ingredient and condiment in Chinese cooking.
I had never even tried chili oil until recently, maybe about 4 years ago, and didn't start to truly enjoy it until about 2 years ago. Previously, the few times I had tried it, it was often bland - just chili and oil. Spicy, but really no flavor other than that.
But my favorite local Chinese restaurant changed my mind. They make their own delicious version - it's salty, savory, a little sweet, and of course, spicy. The tiny bowl they bring is always gone by the end of the meal. I definitely needed to recreate my own to keep on hand at home.
How do you make chili oil?
Making chili oil (at least making GOOD chili oil) is not simply steeping chilis in oil - you need to add other ingredients to add flavor.
Soy sauce adds salt and umami. Sugar adds sweetness. Garlic, cinnamon, and star anise add more depth of flavor. The result is a thick, spicy paste-like oil that is absolutely delicious smeared on green onion pancakes or tossed with otherwise plain noodles.
Not a fan of heat? Make sure to use chili flakes or powder that are less spicy - Korean gochugaru would be a great option.
Want more Condiment recipes?
Chili Oil Nutrition Notes:
The above nutrition information uses low sodium soy sauce, which is what I always use at home. It does not include the garlic, cinnamon, or star anise as those are not actually consumed and don't contribute a significant amount of nutrients to the chili oil.
DIY Chili Oil
Making your own flavorful chili oil at home couldn't be easier! This spicy condiment is great on Chinese foods or to add heat to any of your favorite foods.
Ingredients
½

cup

canola oil

⅓

cup

chili flakes

(see note)

1

Tablespoon

soy sauce

(see note)

1

Tablespoon

granulated sugar

½

teaspoon

salt

2

medium

garlic cloves,

peeled and lightly crushed

1

cinnamon stick

(optional)

1

star anise

(optional)

¼

teaspoon

Sichuan peppercorns

(optional)
Instructions
Add oil to a small saucepan and heat over medium heat until it measures 300°F on an instant-read thermometer. Remove pot from heat and stir in the chili flakes, soy sauce, sugar, salt, garlic, cinnamon, star anise, and peppercorns (if using).

Cool mixture completely and remove the garlic, cinnamon, and star anise before serving. Store in an airtight container in the fridge and serve with your favorite foods.
Notes
Use Sichuan chili flakes if you can find them.  Gochugaru (Korean chili powder) is a slightly sweeter, less spicy option. You can also use regular old chili or red pepper flakes, and your chili oil will be coarser, as those flakes tend to be larger. I like to use a combination of the three types.
To make this chili oil gluten free, use gluten free soy sauce or Tamari.
Nutrition
Serving:
1
teaspoon
|
Calories:
36
kcal
|
Carbohydrates:
2
g
|
Protein:
0.4
g
|
Fat:
3
g
|
Saturated Fat:
0.3
g
|
Polyunsaturated Fat:
1
g
|
Monounsaturated Fat:
2
g
|
Trans Fat:
0.01
g
|
Sodium:
96
mg
|
Potassium:
45
mg
|
Fiber:
1
g
|
Sugar:
1
g
|
Vitamin A:
650
IU
|
Vitamin C:
0.1
mg
|
Calcium:
9
mg
|
Iron:
0.4
mg
(Visited 190 times, 2 visits today)