Healthy Pumpkin Spice Bran Muffins. Pumpkin keeps them moist and adds the flavors of fall, along with the addition of lots of flavorful spices.
I have a secret. I kind of hate Pumpkin Spice. GASP!!! WHAT??? (At least, this is what I imagine you're all saying based on all the pumpkin spice love I see floating around the internet every day for the past month!)
Okay, let me explain. I don't really hate pumpkin spice - at least not in everything. I just think it has a time and a place. Obviously, fall is the time, since pumpkins are in season in the fall.
But it seems to me that the pumpkin spice trend is a little crazy. Do I want pumpkin spice in my coffee. Nope. But it appears that everyone else does. But the occasional baked good? Sure! Pie? Of course!
Today I made Pumpkin Spice Bran Muffins. That's right, I'm jumping on the bandwagon. I'm just not going to be making pumpkin spice lattes, or ice cream, or cocktails, or smoothies anytime soon.
How to make Pumpkin Spice Bran Muffins:
These muffins are very easy to make and don't require the use of a mixer or other special equipment other than a muffin pan. The ingredients are simply whisked and folded together and poured into the muffin pan to bake.
Pumpkin Spice Bran Muffin Ingredients:
Whole wheat flour
Granulated sugar
Ground cinnamon
Baking powder
Baking soda
Salt
Ground ginger
Nutmeg
Pumpkin puree
Large eggs
Buttermilk (or try dried buttermilk for convenience)
Canola oil
Raisins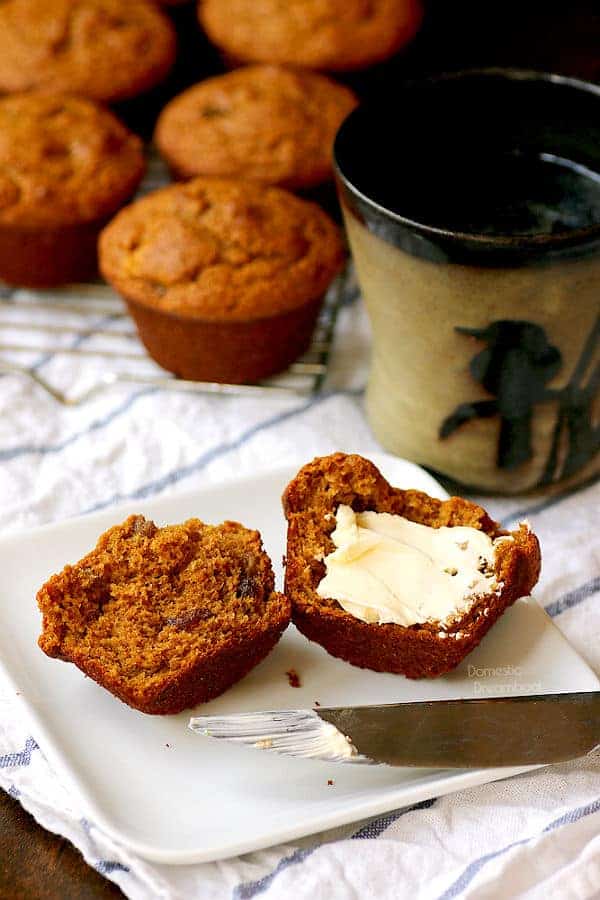 How to customize your Pumpkin Spice Muffins:
These photos show a batch of muffins that I added raisins to. However, I don't always add raisins if I don't have any, and they're great without too.
You can also replace the raisins with any other type of dried fruit (figs, dates, or chopped prunes would be delicious). Or you could replace with chopped nuts.
If you don't have any pumpkin, but you have leftover sweet potato or cooked winter squash of another type, simply substitute an equal amount.
Want more muffin recipes?
Pumpkin Spice Bran Muffin Nutrition Notes:
The nutrition information in the recipe does not include the addition of raisins. If you are using raisins, or any other dried fruit, the sugar content will increase.
Pumpkin Bran Muffins
Healthy bran muffins with pumpkin to keep them moist and loaded with the flavors of fall thanks to the addition of lots of flavorful spices.
Ingredients
1

cup

whole wheat flour

¾

cup

wheat bran

¾

cup

granulated sugar

1 ½

teaspoon

ground cinnamon

1

teaspoon

baking powder

1

teaspoon

baking soda

½

teaspoon

salt

¼

teaspoon

ground ginger

⅛

teaspoon

freshly grated nutmeg

(or ground nutmeg)

1

cup

fresh or canned pumpkin puree

2

large eggs

⅔

cup

buttermilk

¼

cup

canola oil

¼

cup

raisins

(optional)
Instructions
Heat oven to 400°F. Lightly grease a 12 cup muffin pan.

Whisk together flour, bran, sugar, cinnamon, baking powder, baking soda, salt, ginger, and nutmeg in a large bowl. Set aside.

In a medium bowl, whisk together pumpkin, eggs, buttermilk and oil.

Gently stir pumpkin mixture into flour mixture until just combined (it's okay if some lumps remain) and fold in raisins, if using. Divide batter evenly among muffin cups.

Bake for 20-25 minutes, until a toothpick inserted in the center of a muffin comes out clean. Cool slightly in pan, then remove muffins from pan and cool on a wire rack.
Nutrition
Calories:
170
kcal
|
Carbohydrates:
27
g
|
Protein:
4
g
|
Fat:
6
g
|
Saturated Fat:
1
g
|
Polyunsaturated Fat:
2
g
|
Monounsaturated Fat:
3
g
|
Trans Fat:
1
g
|
Cholesterol:
29
mg
|
Sodium:
250
mg
|
Potassium:
176
mg
|
Fiber:
4
g
|
Sugar:
14
g
|
Vitamin A:
3241
IU
|
Vitamin C:
1
mg
|
Calcium:
54
mg
|
Iron:
1
mg
Nutrition Disclaimer: I try my best to make sure the nutrition information I provide is accurate to provide you with the best information possible. However, due to ingredient discrepancies and other factors, the above nutrition information should be considered an estimation only.
(Visited 2,740 times, 24 visits today)