Healthy Pumpkin Spice Bran Muffins. Pumpkin keeps them moist and adds the flavors of fall, along with the addition of lots of flavorful spices.
I have a secret. I kind of hate Pumpkin Spice. GASP!!! WHAT??? (At least, this is what I imagine you're all saying based on all the pumpkin spice love I see floating around the internet every day for the past month!)
Okay, let me explain. I don't really hate pumpkin spice – at least not in everything. I just think it has a time and a place. Obviously, fall is the time, since pumpkins are in season in the fall.
But it seems to me that the pumpkin spice trend is a little crazy. Do I want pumpkin spice in my coffee. Nope. But it appears that everyone else does. But the occasional baked good? Sure! Pie? Of course!
Today I made Pumpkin Spice Bran Muffins. That's right, I'm jumping on the bandwagon. I'm just not going to be making pumpkin spice lattes, or ice cream, or cocktails, or smoothies anytime soon.
I love to keep bran muffins in the freezer for a quick breakfast or snack. And these muffins have the added benefit of the pumpkin to help keep them moist and the spices for extra flavor.
I added raisins this time, but often I don't and they're great both ways. Some chopped nuts would be good too. 
Not only are these muffins delicious, but they're high in fiber too. Gotta love fiber! And wheat bran provides the best kind of fiber (insoluble) to keep you regular. As with any recipe that uses pumpkin, feel free to substitute an equal amount of any pureed winter squash for a similar result.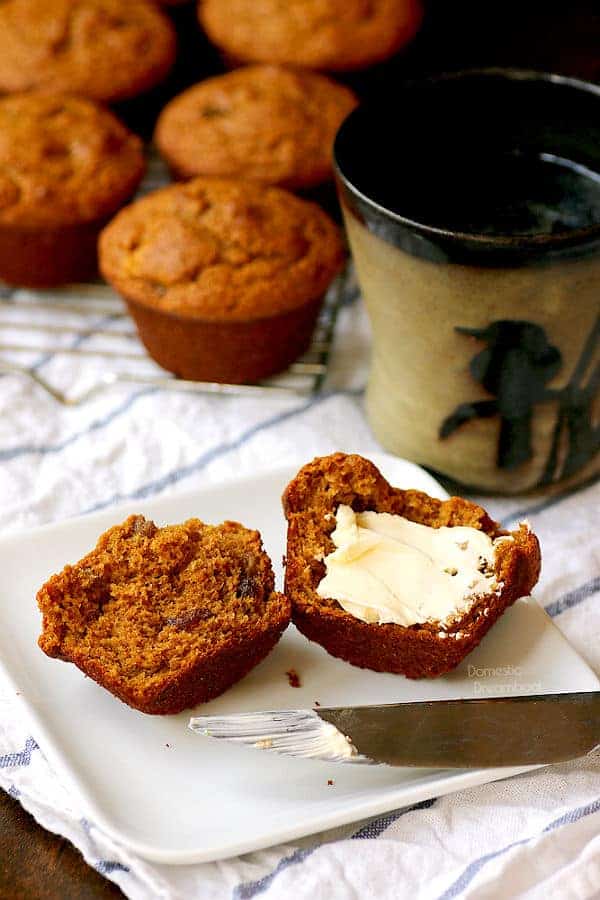 Now lets talk about fall for a bit. I have to say that although it's now officially fall, it doesn't really feel like it yet. It's still warm here, and I'm still pulling zucchinis, peppers and tomatoes out of my garden almost everyday.
Maybe I'm still used to Canadian fall, that very, very short period of time between summer and when the snow falls. In any case, this is really the first time I've gotten to enjoy a Wisconsin fall, as I'm usually travelling at this time of the year. And enjoy it we will! We're hoping to get a little hiking in, and maybe a corn maze. What's your favorite fall family activity?
Pumpkin Spice Bran Muffin Nutrition Notes:
The above nutrition information does not include the addition of raisins. If you are using raisins, or any other dried fruit, the sugar content will increase.
Want more Pumpkin Spice?
Pumpkin Bran Muffins
Healthy bran muffins with pumpkin to keep them moist and loaded with the flavors of fall thanks to the addition of lots of flavorful spices.
Ingredients
1

cup

whole wheat flour

3/4

cup

wheat bran

3/4

cup

granulated sugar

1 1/2

teaspoon

ground cinnamon

1

teaspoon

baking powder

1

teaspoon

baking soda

1/2

teaspoon

salt

1/4

teaspoon

ground ginger

1/8

teaspoon

freshly grated nutmeg

(or ground nutmeg)

1

cup

fresh or canned pumpkin puree

2

large eggs

2/3

cup

buttermilk

1/4

cup

canola oil

1/4

cup

raisins

(optional)
Instructions
Heat oven to 400°F. Lightly grease a 12 cup muffin tin.

Whisk together flour, bran, sugar, cinnamon, baking powder, baking soda, salt, ginger, and nutmeg in a large bowl. Set aside.

In a medium bowl, whisk together pumpkin, eggs, buttermilk and oil.

Gently stir pumpkin mixture into flour mixture until just combined (it's okay if some lumps remain) and fold in raisins, if using. Divide batter evenly among muffin cups.

Bake for 20-25 minutes, until a toothpick inserted in the center of a muffin comes out clean. Cool slightly in pan, then remove muffins from pan and cool on a wire rack.
Nutrition
Want more muffin recipes?