Salmon Noodle Casserole is a familiar favorite that has been made healthier by using salmon and whole wheat noodles. Still a quick and easy family favorite!
So I'm sure many of you remember certain dishes your parents used to make on a regular basis when you were growing up. Maybe you loved them, maybe you hated them, but you remember them.
My mom had a few "regulars" on her cooking rotation. Most of them I have fairly fond memories of.
But here's a question: how many of you actually cook dishes from your childhood? Maybe your mom passed those recipes down so that you could feed them to your kids too.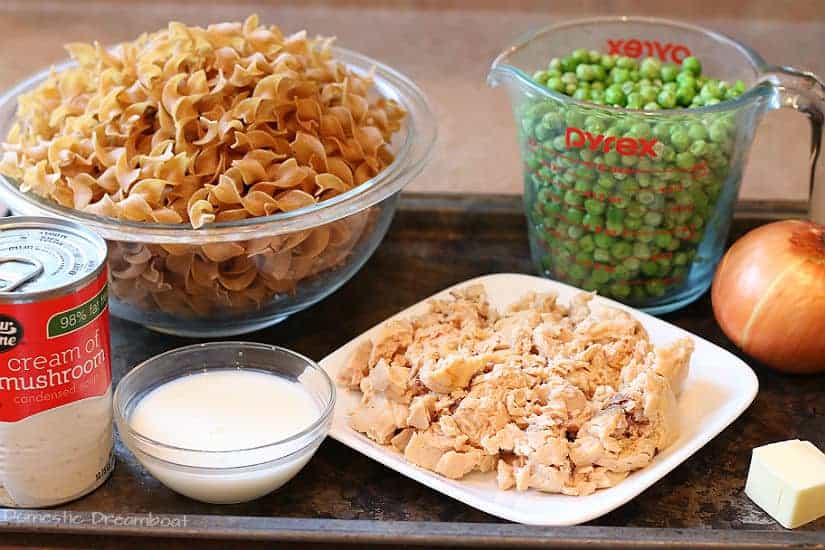 My mom did give me some of those old recipes - some as photocopies from actual cookbooks.
In the case of this Salmon Noodle Casserole, it was a scribbled-down version of what was ingrained into her memory after making it for so many years.
Now, I'm sure many of you won't be surprised to find out that this didn't start out as Salmon Noodle Casserole at all, but the ever popular Tuna Noodle Casserole.
How do you make Salmon Noodle Casserole?
Like many of the other retro recipes I grew up with, I adjusted this one to make it more modern and a little healthier.
It didn't take much - all I did was swapped the regular white egg noodles for whole wheat and replaced the tuna with salmon.
These changes increase the classic casserole's fiber content, add omega 3 fatty acids, and cut back on the mercury that you might get from canned tuna.
Since the changes were so minimal, my favorite childhood casserole still tasted pretty much the same as I remembered it growing up.
Although back then, I hated the peas. I used to pick each and every one of them out. When I was done eating, I'd hand a bowl of peas back to my mom with nary a noodle or tuna flake in sight.
Salmon Noodle Casserole Ingredients:
whole wheat egg noodles
unsalted butter or margarine
yellow onion
frozen peas
milk
Salmon Noodle Casserole Variations:
Instead of making the recipe as I have it written, you can modify it to fit with the tastes of your family. Here are the changes you can make to the recipe:
replace the canned salmon with an equal amount of canned tuna
use regular (white) egg noodles or an equal amount of your favorite pasta instead of whole wheat egg noodles
try using other frozen vegetables instead of peas (edammame works particularly well)
Want more comfort food recipes?
Salmon Noodle Casserole Nutrition Notes:
Making Salmon Noodle Casserole with whole wheat noodles (or whole wheat pasta) instead of regular white egg noodles increases the fiber content of the dish.
Using canned salmon instead of canned tuna adds omega 3 fatty acids which promote brain development in children and heart health for everyone.
It also cuts back on mercury, which can be present in varying amounts in canned tuna. This is especially important for young children and pregnant women who should avoid fish that are high in mercury.
Serve this casserole with a green salad to make a complete meal.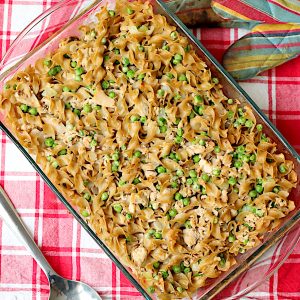 Salmon Noodle Casserole
Salmon Noodle Casserole is a familiar favorite that has been made healthier by using salmon and whole wheat noodles. Still a quick and easy family favorite!
Ingredients
12

ounces (one package)

whole wheat egg noodles

see note (Use Gluten Free pasta or noodles to make this recipe Gluten Free)

1

Tablespoon

unsalted butter or margarine

1

medium

yellow onion,

chopped

2

cups

frozen peas,

thawed

14

ounce

can condensed cream of mushroom soup

¼

cup

milk

two

cans

canned salmon

(6 ounces each)
Instructions
Heat oven to 400°F.

Cook egg noodles to al dente according to package instructions. Drain and set aside.

Place butter and onion in a microwave safe glass bowl or measuring cup. Cook on high until butter is melted and onions are soft, about 3 minutes, stirring after every minute.

Add onion butter mixture, peas, condensed mushroom soup and milk to a 9x13" pyrex dish or large casserole dish. Stir together until mixture is uniform. Stir in the noodles until coated in the soup mixture. Add salmon and stir in, being careful not to break up the flakes of fish too much.

Bake until heated through and the top is beginning to brown, 15-20 minutes.
Notes
Any short shape of whole wheat pasta (like macaroni, penne, rotini, etc.) can be used instead of the egg noodles. 
Recipe can be prepared to the end of step 4, then refrigerated for up to 2 days. Bake just before serving.
Nutrition
(Visited 8,245 times, 37 visits today)