Tropical Cherry Ambrosia is a fun pink dessert that is quick and easy to make and delicious to eat. Just dump the ingredients in a bowl, stir, and chill!
When I was growing up, Ambrosia was a regular item on our holiday plates. My Granny would make it for the big holidays like Christmas and Easter, and it would be present on our dinner plates along with our turkey and perogies. We called it a "salad".
I still make it occasionally, but with my own recipe. My husband and I both absolutely love canned cherry pie filling, so I made sure to incorporate it into my recipe for Tropical Cherry Ambrosia.
And now I call it what it is. Dessert. I'm not sure where anyone ever got the idea that this sweet mixture of fruit, marshmallows, whipped topping, and coconut could be considered a salad that belongs on a dinner plate.
What is Ambrosia?
Ambrosia is a type of fruit salad that contains fresh and/or canned fruit, marshmallows, coconut and/or other chopped nuts, and whipped topping. It may also have mayonnaise, sour cream or yogurt, or sweetened condensed milk in it. Recipes can vary greatly.
Ambrosia first became popular in the late 19th century, and became associated with major holidays like Christmas and Thanksgiving in the early to mid 20th century, especially in the southern United States.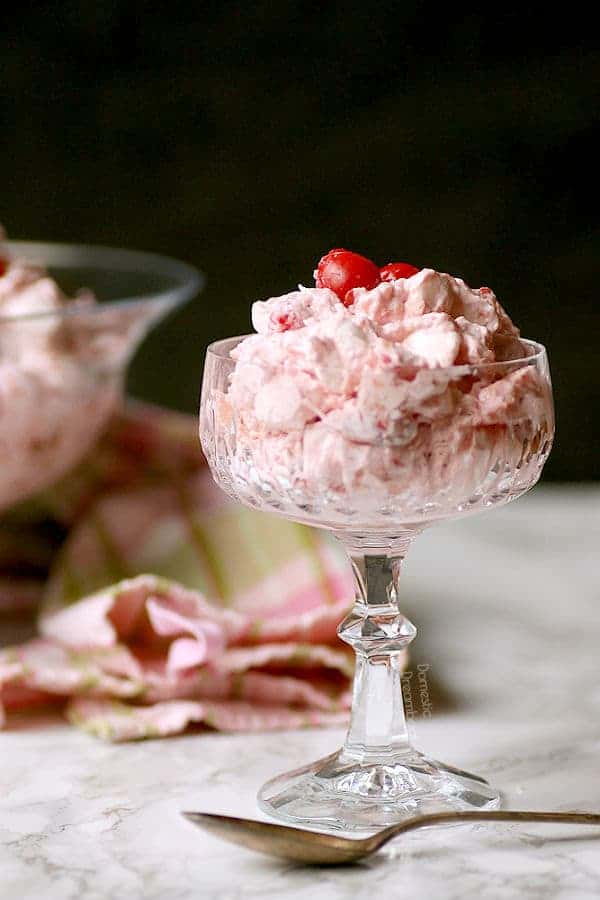 How you choose to serve your Cherry Ambrosia is ultimately up to you - dinner plate vs. dessert bowl, family style vs. individual serving bowls. I think it looks beautiful in clear glass dishes to showcase it's pretty pink color.
Consider serving it as a Valentine's day dessert for a festive treat, or it could be used for any party in which there is a pink theme.
Of course, since it's so quick and easy to mix up, you could serve it as an extra fun weeknight treat!
Tropical Cherry Ambrosia Nutrition Notes:
The nutrition information in the recipe uses low fat (light) whipped topping, and unsweetened shredded coconut for the calculations.
The fat in this recipe is mostly saturated due to the addition of the shredded coconut. If you need to follow a lower saturated fat diet for health reasons, you could try substituting part of the shredded coconut with sliced or slivered almonds.
Want More Cherry Recipes?
Tropical Cherry Ambrosia
Tropical Cherry Ambrosia is a fun pink dessert that is quick and easy to make and delicious to eat. Just dump the ingredients in a bowl, stir, and chill!
Ingredients
1

can (20 ounce)

crushed pineapple

1

can (21 ounce)

cherry pie filling

(use one with "extra cherries) if you can find it)

8

ounces (1 small container)

frozen whipped topping (Cool Whip),

regular or light

4

cups

mini marshmallows

(about half a 16 ounce bag)

1

cup

shredded dried coconut,

sweetened or unsweetened
Instructions
Transfer crushed pineapple to a mesh strainer and drain well, saving the juice to drink if you wish.

Add the drained pineapple, cherry pie filling, whipped topping, marshmallows, and shredded coconut to a large bowl. Stir until mixed well. Cover bowl and place in fridge to chill for at least 1 hour before serving.
Nutrition
Calories:
310
kcal
|
Carbohydrates:
58
g
|
Protein:
2
g
|
Fat:
9
g
|
Saturated Fat:
7
g
|
Cholesterol:
1
mg
|
Sodium:
50
mg
|
Potassium:
250
mg
|
Fiber:
1
g
|
Sugar:
28
g
|
Vitamin A:
210
IU
|
Vitamin C:
10
mg
|
Calcium:
40
mg
|
Iron:
1
mg
Nutrition Disclaimer: I try my best to make sure the nutrition information I provide is accurate to provide you with the best information possible. However, due to ingredient discrepancies and other factors, the above nutrition information should be considered an estimation only.
(Visited 616 times, 1 visits today)