The Amaretto Sour is a classic, simple yet delicious cocktail. Aquafaba replaces egg white to create a thick, rich foam. Great for any occasion!
Well, it's that time again. Christmas is almost here. Only a few days left. I won't be traveling this year. Instead, my in-laws will be coming here.
I've been busying myself over the past couple of weeks with meal prep. I'm filling my freezer with entrees and side dishes for Christmas dinner, as well as family meals that can be enjoyed the entire time they're here.
That way, I'll spend less time cooking while everyone is here, and more time doing fun holiday family activities. Hopefully, we get some snow so we can do some sledding and/or snowman building too!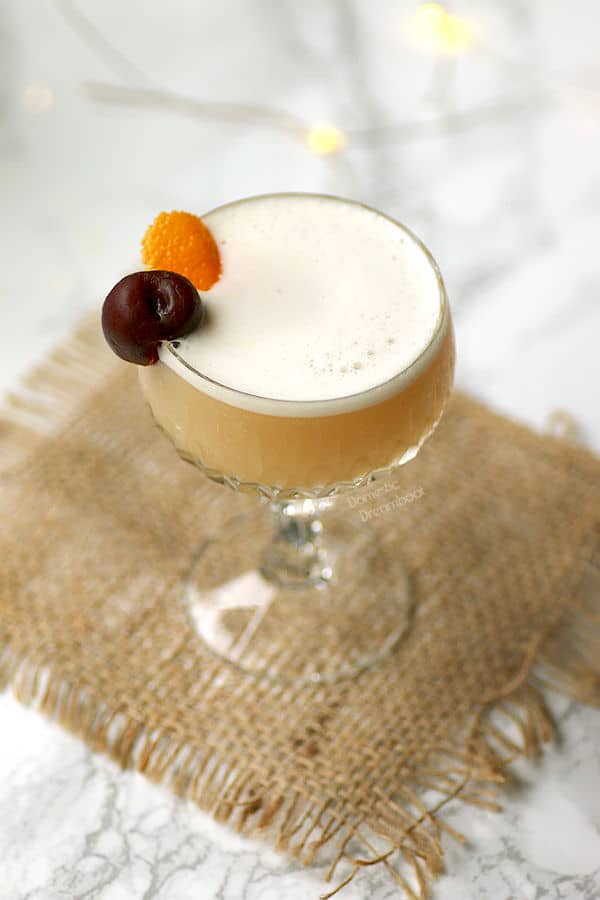 In addition to all that food I've been stockpiling, I've been pre-making some beverages too - of the alcoholic variety. After all, with all the work I've been doing to get ready, pretty soon I'll be ready to kick back with a nice, festive drink.
I've got a couple of bottles of punch and eggnog hanging out in the fridge. But when you need a last-minute cocktail idea that takes only minutes to whip up, consider making yourself an Amaretto Sour Cocktail.
What is a "sour" cocktail?
An amaretto sour is a member of the "sour" family of cocktails, which are very simple to make. "Sour" cocktails include only a few ingredients:
- a liquor of some sort (in this case amaretto)
- sour juice (usually lemon or lime)
- a sweetener (like simple syrup, sugar, or honey)
I skipped the sweetener in this case, because amaretto is already quite sweet, and I didn't find that it needed extra.
Some sours are also made with egg white, which gives the cocktail a thick, creamy foam on the top after shaking.
Chickpea water? In a cocktail?!
We all know that in this day and age, we probably shouldn't consume raw eggs, and that includes adding them to our cocktails.
But luckily, aquafaba (the water from cooking beans, particularly chickpeas), is a perfect stand-in.
The combination of protein and starch in aquafaba creates a beautiful foam without any risk of food-borne illness.
If you think you might like to try adding aquafaba to your sour cocktails, keep the liquid that's left when you strain a can of chickpeas.
You can put it into an airtight container and store it in the fridge for up to a week. Then it's ready to go whenever you're ready to shake up a batch of amaretto sours.
How to make an Amaretto Sour:
One of the main reasons I love amaretto sours is because they're so easy to make! All that's required, is measuring, pouring, and shaking. The only special equipment you'll need is a cocktail shaker.
Simply measure out your amaretto, bourbon, lemon juice, and aquafaba; and pour it into your cocktail shaker and shake vigorously. Then add ice to the shaker, and shake again. Pour into a cocktail glass, and garnish with a citrus twist, and/or cherry, or leave it plain.
Want more aquafaba recipes?
Amaretto Sour Nutrition Notes:
The nutrition information in the recipe below does not include any garnishes.
Classic Amaretto Sour
The Amaretto Sour is a classic, simple yet delicious cocktail. Aquafaba replaces egg white to create a thick, rich foam. Great for any occasion!
Ingredients
1 ½

ounces

amaretto liqueur

(such as Disaronno)

½

ounce

bourbon

½

ounce

aquafaba (chickpea cooking liquid - see note)

½

ounce

lemon juice

Ice cubes

1

orange peel twist

(optional)

1

maraschino cherry or brandied cherry

(optional)
Instructions
Add amaretto, bourbon, aquafaba, and lemon juice to a cocktail shaker without the ice. Shake vigorously for 15-20 seconds. Add a couple of handfuls of ice, and shake vigorously again until chilled. Pour into a glass to serve, either with or without ice (I prefer without ice for this drink) and garnish with a twist of orange peel and a maraschino cherry.
Notes
You can make this recipe without the aquafaba, but it will not get a foam on the top.
Nutrition
Calories:
170
kcal
|
Carbohydrates:
15
g
|
Sodium:
5
mg
|
Sugar:
14
g
Nutrition Disclaimer: I try my best to make sure the nutrition information I provide is accurate to provide you with the best information possible. However, due to ingredient discrepancies and other factors, the above nutrition information should be considered an estimation only.
(Visited 752 times, 1 visits today)