Homemade Eatmore Bars taste just like the classic Canadian chocolate bar. Chewy, toffee-like squares filled with oats, peanuts, and a hint of chocolate.
It's Christmas baking time!! Also known as the time of the year that we pull out all of our recipes for our favorite sweet treats and try to narrow down the list of what goes on the goody tray.
AKA the time of year we spend a whole week's food budget on sugar, butter, chocolate and nuts in one grocery trip. Or is that just me?
This year I am paring it way down and only making a short list of my family's very favorite treats. Homemade Eatmore Bars made the list.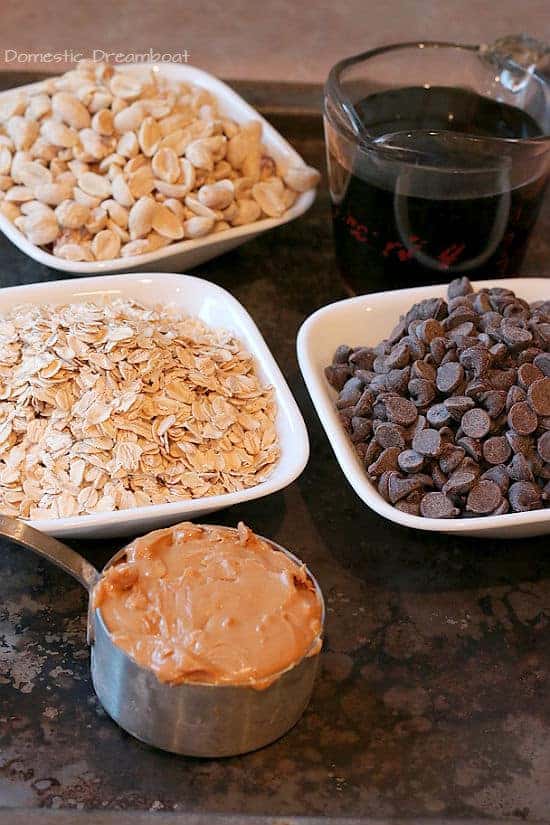 I made these chewy treats for the first time last year, and they were the only new treat that I repeated. And anything I try that gets made again must be really good, since my "to make" list always seems never-ending.
What are Eatmore Bars anyway?
If you live in Canada, chances are you've had the chocolate bar (that's candy bar to my South of the border readers) Eat-More. Hershey describes the Eat-More bar as having a "unique taste of chewy dark toffee, peanut and chocolate".
Eatmore bars are a taste of my childhood. My mom used to buy them by the case at Costco.
This recipe tastes like an exact replica - they're chewy, they're peanutty and they're a little chocolatey. And they have oats, which add texture and fiber (but not quite enough for me to consider them a healthy treat).
I never used to make these Eatmore bars myself because I'd always steal them from the treat tray made by Mr. Dreamboat's cousin.
But since we've moved away I've had to become my family's Eatmore supplier. Lucky for me, they're super easy to make. Only five ingredients! And they're no-bake!
The only prep work involved is chopping the peanuts (you can use your food processor here to save time), boiling the corn syrup and peanut butter (less than 10 minutes), and stirring.
This truly is a dessert that anyone can manage. The recipe makes a big tray, but they'll probably still disappear in no time!
Want more Chocolate Recipes?
Homemade Eatmore Bars Nutrition Notes:
The nutrition information is based on a small, bite-sized square, which is how I like to cut up my Christmas treats. If you are going to cut yours into bigger pieces, be sure to adjust the nutrition info accordingly.
Homemade Eatmore Bars
These Homemade Eatmore Bars turn out just like the classic Canadian chocolate bar - chewy nut and oat filled bars with a hint of chocolate.
Ingredients
2

cups

unsalted dry roasted peanuts

1 ¼

cup

rolled oats

(use Gluten Free oats if you need this recipe to be Gluten Free)

½

cup

smooth or crunchy peanut butter

1

cup

golden corn syrup

1 ¾

cup

semi sweet chocolate chips

(make sure your chocolate chips are dairy free if you need your recipe to be dairy free and/or vegan)
Instructions
Cut a piece of parchment paper to fit inside the bottom of a 9x13" baking pan (do this by tracing around the bottom of the pan onto the parchment, then cutting it out). Place the parchment in the bottom of the pan and spray the sides of the pan with oil.

Place roasted peanuts in a food processor and pulse until they are coarsely chopped. Alternatively, coarsely chop by hand. Pour into a large bowl and stir in rolled oats. Set aside.

Mix peanut butter and corn syrup together in a small saucepan. Heat over medium heat until the mixture begins to boil, about 8-10 minutes. Remove from heat and stir in chocolate chips until completely melted and incorporated.

Pour the peanut butter mixture over the peanuts and oats. Stir until well mixed. Spread mixture into the prepared baking pan. Cover with plastic and refrigerate until set, 1-2 hours. Remove from fridge and keep at room temperature to soften for 10 minutes before cutting. Cut into squares. Bars will keep in an airtight container for several days at room temperature, or several months in the freezer.
Nutrition
Calories:
94
kcal
|
Carbohydrates:
10
g
|
Protein:
2
g
|
Fat:
6
g
|
Saturated Fat:
2
g
|
Polyunsaturated Fat:
1
g
|
Monounsaturated Fat:
2
g
|
Trans Fat:
1
g
|
Cholesterol:
1
mg
|
Sodium:
19
mg
|
Potassium:
81
mg
|
Fiber:
1
g
|
Sugar:
7
g
|
Vitamin A:
3
IU
|
Calcium:
9
mg
|
Iron:
1
mg
Nutrition Disclaimer: I try my best to make sure the nutrition information I provide is accurate to provide you with the best information possible. However, due to ingredient discrepancies and other factors, the above nutrition information should be considered an estimation only.
(Visited 5,438 times, 6 visits today)