This Edible Cookie Dough uses finely ground oats instead of flour and no eggs to make it completely safe to eat, and also gluten-free.
Who here thinks licking the bowl/spoon/beaters is the best part about baking? 🙋‍♀️
I have licked cake batter off the spatula at snacked on bites of cookie dough for as long as I can remember, without giving much of a thought to food safety. And while the chances are getting sick from eating raw batter or dough that contains eggs and flour is probably slim, the reality is that the chance is there.
Since I've started taking a medication that increases my chances of getting an infection (including a food-borne illness), and I've gotten lab-confirmed food poisoning twice over the past few years (though never from food that's come out of my own kitchen.
I've become much more careful about food safety, including eating raw dough and batter when I'm baking, even though it makes me cry a little bit inside. That's why I had to come up with a recipe for Edible Cookie Dough that tastes like everyone's favorite raw treat, but is completely safe to eat.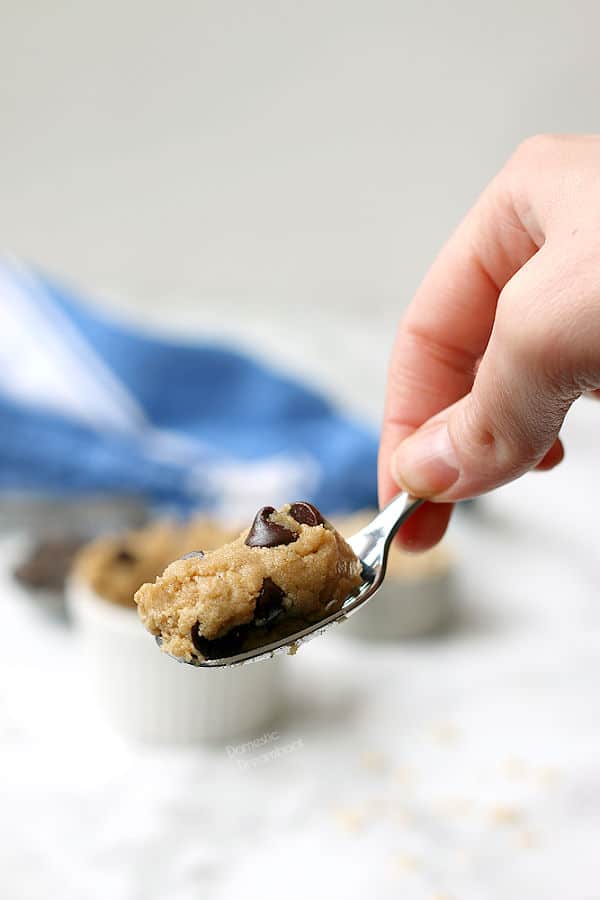 What makes raw cookie dough unsafe?
Most people know that eating raw eggs doesn't come without risk (they can carry salmonella bacteria). However, simply eliminating eggs from your favorite cookie dough recipe isn't quite enough to make it safe.
Did you know that you can get sick from eating raw flour too?
It's possible that flour can be contaminated with e. Coli from the soil, so flour always needs to be cooked before eating it. It is possible to make it safe by toasting it in a pan or heating it in the microwave, then using the heat-treated flour to make "raw" cookie dough, but I decided to use oat flour to increase the fiber content and make them gluten-free.
This recipe makes a very small batch - just enough for two servings. If you need more, simply double the recipe.
How to Make Small Batch Edible Cookie Dough?
Making this crave-worthy edible cookie dough is easy. It does take the use of a mini food processor or coffee grinder if you don't already have oat flour on hand (I never do).
Once you have the oat flour made, you simply stir it together with the brown sugar, butter, salt, vanilla, and chocolate chips. Then you can do with it as you like - eat it with a spoon, or use it as a topping for ice cream or another dessert.
Want more chocolate chip recipes?
Edible Cookie Dough Nutrition Notes:
No matter what healthier ingredients go into making it, cookie dough isn't exactly a healthy choice. While this does have more fiber than cookie dough made with white flour, because of the oats, it's still high in calories, fat, and sugar. Consider it a delicious treat and eat it in moderation.
Small Batch Edible Cookie Dough (Gluten Free)
This Edible Cookie Dough uses finely ground oats instead of flour and no eggs to make it completely safe to eat, and also gluten free.
Ingredients
½

cup

rolled oats

(Use Gluten Free oats to make this recipe Gluten Free)

¼

cup

brown sugar

2

Tablespoons

unsalted butter, softened

(use dairy free butter alternative if you need to make this recipe dairy free or vegan)

⅛

teaspoon

kosher salt

¼

teaspoon

vanilla extract

2

Tablespoons

chocolate chips
Instructions
Pulse rolled oats in a mini food processor or clean coffee grinder until they are finely ground and resemble flour.

Cream together brown sugar, butter, and salt in a medium bowl using a hand mixer or wooden spoon. Add vanilla and stir until incorporated. Add the oat flour and stir until mixed. Mix in chocolate chips. Eat as is, or use as a topping for ice cream.
Nutrition
Calories:
380
kcal
|
Carbohydrates:
53
g
|
Protein:
6
g
|
Fat:
17
g
|
Saturated Fat:
10
g
|
Trans Fat:
0.6
g
|
Cholesterol:
30
mg
|
Sodium:
150
mg
|
Fiber:
3
g
|
Sugar:
33
g
Nutrition Disclaimer: I try my best to make sure the nutrition information I provide is accurate to provide you with the best information possible. However, due to ingredient discrepancies and other factors, the above nutrition information should be considered an estimation only.
(Visited 3,788 times, 4 visits today)