Making homemade hamburger buns is easy if you plan ahead. Your guests will be so impressed to learn your soft, fluffy buns are homemade!
It's getting really close to hamburger season. So close I can almost taste it. There's not much better than a homemade burger, so why not make Homemade Hamburger Buns too?
Have you ever made your own hamburger buns? It's time to start!
The first time I made my own hamburger buns, it wasn't even on purpose. Burgers were on the menu for dinner that night, but we didn't have any buns. I couldn't get to the grocery store, so I made my own.
You really can't beat the taste of freshly baked bread. I used to beg my mom to make fresh bread in her bread machine every couple of days. It's just so good! Now I make my own, without a machine.
These hamburger buns are a little different than regular old sandwich bread in that they have egg, butter, and sugar added to them - they are enriched.
I made these ones with all white flour, but of course, you could exchange part or all of the white flour for whole wheat, if you wish.
Like any bread, you won't be able to make these at the last minute. They take almost 4 hours until they're done, but that's mostly hands-off rising time.
How to make Homemade Hamburger Buns
The recipe starts by adding the yeast, a little flour and warm water to a bowl to proof. You're waiting for the yeast to start to get foamy.
Once that happens, you add the egg, butter, sugar, salt and flour and knead it all together. If you make bread (or any baked goods) a lot, consider investing in a good stand mixer. If you bake only occasionally, kneading by hand is fine too.
Then you make the dough into a ball, coat it with a little oil, cover it up and forget about it - at least for the next couple of hours...
When it looks like this. The dough will have doubled in size.
Now we need to cut the dough into bun-sized pieces. This is where you need to do a bit of thinking. What are you using the buns for?
If you're looking for medium sized buns, cut the dough into 10 equal pieces.
Are they for large (½lb) burgers? If so, only cut the dough into 8 pieces.
For small sliders, do 12-14 pieces.
Form the dough into balls, tucking the ends under the bottom. Slightly flatten the balls with the palm of you hand, and cover them back up to rise again.
Once they've risen, and they start looking like real buns, you need to get them ready for baking.
This includes brushing with an egg wash, and sprinkling on some sesame seeds (or poppy seeds, or onion, or cheese, or whatever you want).
The egg wash helps them get nice and brown in the oven. Then stick them in the oven.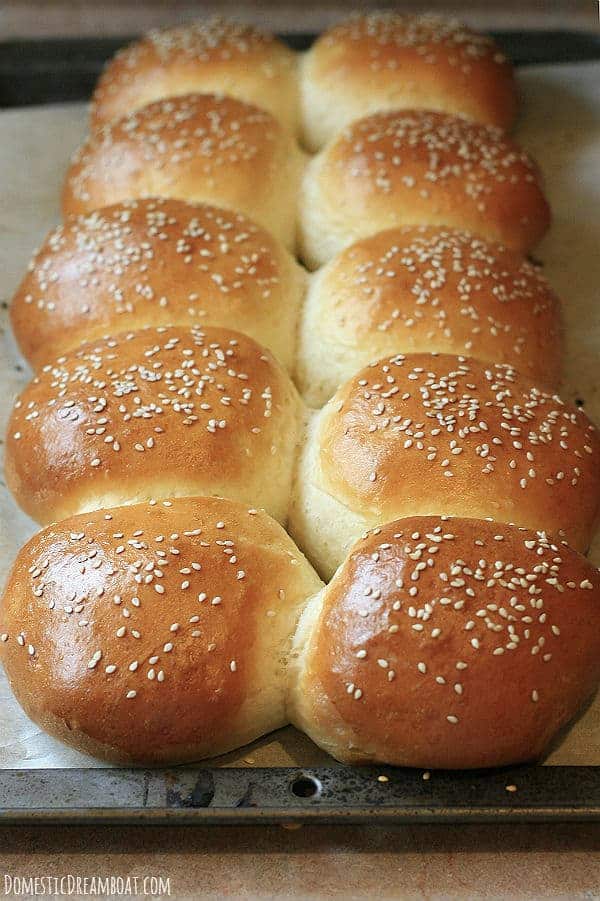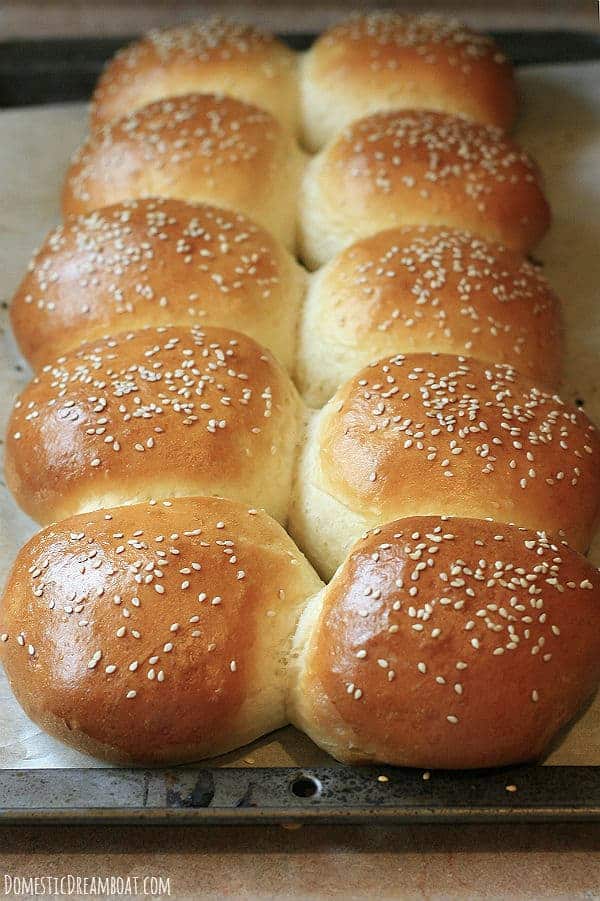 Don't they look good? Let them cool for a bit and you'll be ready to go.
Since these aren't loaded with preservatives like store-bought buns, they get stale a little faster.
That means you'll want to eat them when they're fresh, or freeze them right away.
Don't refrigerate fresh bread, because it makes it dry and hard. Room temp or freezer for your bread, always.
Want to know how to use these buns?
Homemade Hamburger Buns Nutrition Notes:
You can replace some of the all-purpose flour with whole wheat flour to increase the fiber in these homemade hamburger buns. I'd recommend not using more than half whole wheat flour (1 ¼ cups) to avoid affecting the texture and flavor of your buns.
Homemade Hamburger Buns
Making homemade hamburger buns is easy if you plan ahead. Your guests will be so impressed to learn your soft, fluffy buns are homemade!
Ingredients
2 ¼

teaspoons

active dry yeast

(1 envelope)

1

cup

warm water

(105° F/41° C)

3 ½

cups

all-purpose flour,

divided

1

large egg

3

Tablespoons

butter,

melted

2

Tablespoons

white sugar

1

teaspoon

salt

vegetable oil

(for brushing bowl and dough)

1

egg

1

Tablespoon

milk

1

teaspoon

sesame seeds

or other bun topping, as needed
Instructions
Stir together

2 ¼ teaspoons active dry yeast

, 

1 cup warm water

and ½ cup flour in the bowl of a stand mixer or a large bowl. Let sit until mixture becomes foamy, 10-15 minutes.

Stir the

1 large egg

, 3 Tablespoons melted butter,

2 Tablespoons white sugar

, and

1 teaspoon salt

into the yeast mixture. Add 2 ½ cups of flour and knead with a dough hook in a stand mixer, or by hand until all the flour has been incorporated. If the dough remains very sticky, continue adding the remaining ½ cup of flour, 1 Tablespoon at a time until the dough is smooth and elastic, and just stops sticking to the bottom of the bowl (make sure all of the previous flour is incorporated before adding more).

Form dough into a smooth ball and brush lightly with oil. Place in a lightly oiled bowl and let rise for about 2 hours, until doubled in size.

Form dough into a log and cut into 8-14 pieces (see note). Work with 1 piece of dough at a time, and keep the remainder covered. Form each piece into a ball, tucking the ends underneath. Slightly flatten the ball with the palm of your hand. Place dough patties on a baking sheet lined with parchment paper or a silicone baking mat about ½" apart. Allow to rise about 1 hour, until doubled.

Heat oven to 375°F. When buns have risen, whisk together

1 egg

and

1 Tablespoon milk

. Lightly brush the egg mixture on top of each bun, being careful not to collapse the dough (you should have quite a bit of egg wash left over). Immediately sprinkle with sesame seeds or other toppings if desired.

Bake buns for 15-17 minutes, or until golden brown. Cool. If you aren't going to use the buns within 2 days, freeze leftovers.
Notes
For large buns cut dough into 8 pieces. For medium buns, cut into 10 pieces. For small slider buns, cut into 12-14 pieces.
Nutrition
(Visited 10,655 times, 16 visits today)