This Sweet and Savory Chex Mix pairs your favorite cereals and snacks with a sweet, savory, and slightly spicy coating for a snack that's totally addictive!
Snack mix is a big thing here in Wisconsin. Usually a super salty mix of pretzels, rye chips, cheese curls, etc., you'll find it on tables in bars, restaurants, and parties.
But one time at a neighbor's party, I tried one that was a little different. It was sweet, but it was also salty, savory, and a little spicy. That combination was so addictive that I thought about it periodically in the months that followed.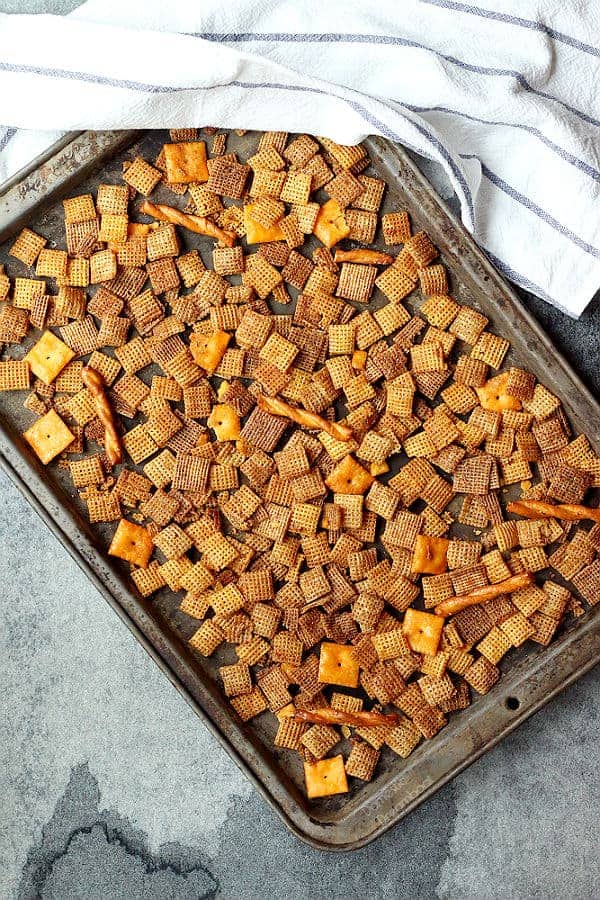 I knew that delicious mixture was homemade, so I tried Googling it, thinking she had made it from a viral recipe on Pinterest or something. No such luck. I couldn't find a recipe that matched exactly what I remembered eating.
So instead of having actual human contact and asking my neighbor for the recipe, I just tried making up the recipe myself. Luckily for me, it pretty much worked on the first try.
All the recipe needed was some fine-tuning of the coating syrup - a little less hot sauce and Worcestershire, and we were good to go. My recipe for Sweet and Savory Chex Mix was born.
What snacks can I add to my Sweet and Savory Chex Mix?
The best part of this delicious snack mix (aside from it's addictive sweet/savory/spicy coating) is the fact that you can add whatever snacks you want into the mix.
You can tailor it to your dietary needs to make it vegan or gluten-free. Here is a list of ideas that would taste great in your own custom mix:
Chex cereal (rice, corn, or wheat)
Wheat squares or Shreddies cereal
Pretzels (whatever shape you prefer)
Small crackers (think Cheez-Its, Goldfish, or Oyster crackers)
Rye chips or bagel chips
Nuts
You might want to avoid snacks that are highly flavored, as they might not pair well with the already highly seasoned coating.
What will you add to your sweet and savory snack mix?
Want More Snack Recipes?
Sweet and Savory Chex Mix Nutrition Notes
The nutrition information below was calculated using the following combination of snack mix:
5 cups Rice Chex
4 cups Corn Chex
2 cups wheat squares (aka Shreddies)
2 cups butter spindles pretzels
1 cup cheese crackers
Feel free to use whatever combination of snacks you like (or even different ones than I have mentioned), but keep in mind that it will result in different nutrition info.
Sweet and Savory Chex Mix
This Sweet and Savory Chex Mix pairs your favorite cereals and snacks with a sweet, savory, and slightly spicy coating for a snack that's totally addictive!
Ingredients
14

cups

bite sized snacks

(eg. cereal, pretzels, crackers, etc. - see note below)

¾

cup (1 ½ sticks)

unsalted butter

(use vegan butter alternative if you need this recipe to be vegan or dairy free)

½

cup

brown sugar

¼

cup

hot sauce

¼

cup

worcestershire sauce

1

Tablespoon

kosher salt

1

teaspoon

garlic powder

½

teaspoon

onion powder

½

teaspoon

freshly ground black pepper
Instructions
Heat oven to 275°F. Line 2 baking sheets with parchment paper or silicone baking mats. Mix together your choice of snacks in a large bowl.

Mix together butter, brown sugar, hot sauce, worcestershire sauce, salt, garlic powder, onion powder, and pepper in a small saucepan over medium heat. Cook, stirring often until butter is melted and the ingredients are uniformly mixed, about 3-5 minutes. Pour the butter mixture over the snack mix and stir gently until evenly coated.

Divide the mixture between the two prepared baking sheets and spread evenly. Bake until the mixture is dry, about 1 hour, stirring every 15 minutes. Let the mixture cool completely (the coating will become crunchy as it cools) and store in and airtight container at room temperature for up to 2 weeks.
Notes
I used the following mixture for my mix, but any combination of similar snacks will work.
4 cups rice Chex
4 cups corn Chex
2 cups wheat squares cereal
2 cups butter spindles pretzels
2 cups cheese crackers
Make sure you use gluten free snacks if you need your snack mix to be gluten free. This might include rice, corn, or oat based cereal, gluten free prezels, and nuts.
Nutrition
Serving:
0.5
cup
|
Calories:
120
kcal
|
Carbohydrates:
15
g
|
Protein:
1
g
|
Fat:
6
g
|
Saturated Fat:
3
g
|
Cholesterol:
15
mg
|
Sodium:
400
mg
|
Fiber:
1
g
|
Sugar:
5
g
Nutrition Disclaimer: I try my best to make sure the nutrition information I provide is accurate to provide you with the best information possible. However, due to ingredient discrepancies and other factors, the above nutrition information should be considered an estimation only.
(Visited 889 times, 2 visits today)