With a light flavor of lemon and blueberries, and creamy texture, this Blueberry Lemon Pudding Cake may just be the ultimate summer dessert.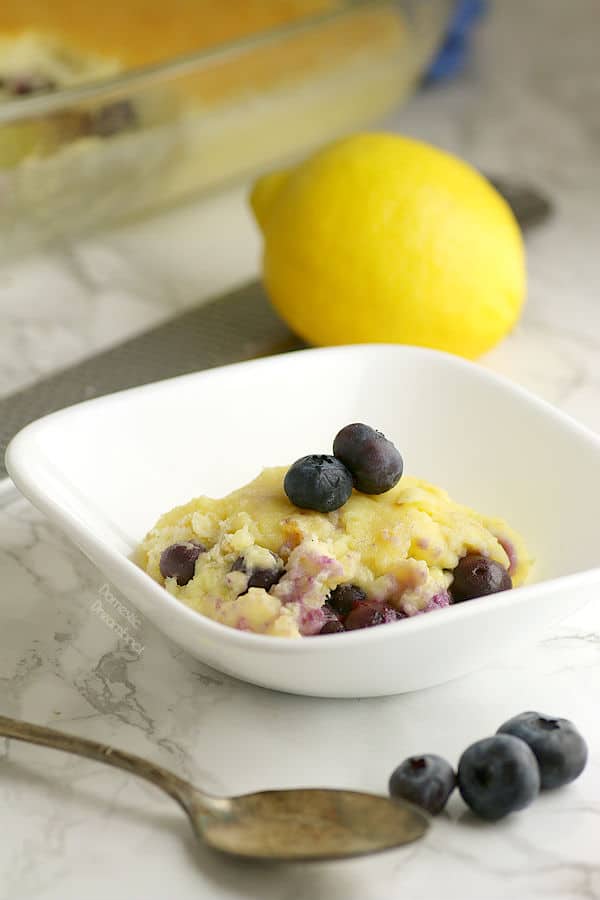 Pudding cake was somewhat of a common dessert in my house when I was growing up. There were all kinds of flavors (chocolate and lemon are the ones I remember most), and they always came from a boxed mix.
I remember always thinking that pouring the boiling water over the batter would totally ruin it. However, I was amazed when the dessert would come out with a perfect layer of cake, with a perfect layer of warm pudding sauce to spoon over the cake.
I still like to make pudding cake on occasion, but now I make it from scratch. I had the idea to make a Blueberry Lemon Pudding Cake one day when I was trying to figure out what to do with some leftover blueberries that hadn't gotten eaten.
Side note: anyone else's kids totally fickle with fruit? One day they're eating the whole container of berries in one sitting, the next week they won't touch them!
What is pudding cake?
Pudding cake is a delightful dessert that's a combination of cake and pudding. It's typically made by mixing up a batter, then pouring a boiling water mixture over the batter (without mixing) just before baking.
The result is a dessert that's separated into a cake layer on top, with a saucy pudding layer underneath. It comes in many different flavors, and is best eaten warm.
When I first made this dessert, my expectations were not very high. I expected it to taste good, because blueberries and lemon always taste good together. But I really thought it would look like a hot mess.
I thought the color from the blueberries would run into the cake and/or pudding, and that the whole thing would like like an unappealing, grayish mess. Luckily, I was wrong. I was very pleasantly surprised to see that the blueberries kept their juices to themselves. Out of the oven came a beautiful yellow cake and pudding, with purple pops of blueberry.
This pudding cake is definitely a nice, light dessert that's perfect for a light spring or summer meal. But because you can make it with frozen blueberries as well, you can make it at any time of the year.
Want more blueberry recipes?
Blueberry Lemon Pudding Cake Nutrition Notes:
Like most desserts, this Blueberry Lemon Pudding Cake is high in sugar (and added sugar). Eat in moderation.
Blueberry Lemon Pudding Cake
With a light flavor of lemon and blueberries, and creamy texture, this Blueberry Lemon Pudding Cake may just be the ultimate summer dessert.
Ingredients
3

large

eggs,

separated

1

teaspoon

lemon zest,

from 1 lemon

¼

cup

lemon juice,

from 1 lemon

1

Tablespoon

unsalted butter,

melted

1

teaspoon

vanilla

¾

cup

granulated sugar

½

cup

all purpose flour

½

teaspoon

kosher salt

1 ½

cups

milk

1

cup

fresh or frozen blueberries

(if using frozen blueberries, do not thaw)
Instructions
Fill a large roasting pan about 2 inches deep with water. Place it on the lower middle oven rack and heat oven to 350°F. Lightly grease a 9x9" Pyrex baking dish or similar sized casserole dish.

In a large bowl, whisk together the egg yolks, lemon zest, lemon juice, butter, and vanilla. In a medium bowl, whisk together the sugar, flour, and salt.

Whisk half of the flour mixture into the egg yolk mixture, then whisk half of the milk into the egg yolk mixture. Repeat with the remaining flour mixture and milk.

Using a hand mixer, whip egg whites on low speed until frothy (about 1 minute), then increase speed to high until stiff peaks form (about 2 more minutes). Gently fold egg whites into batter with a spatula until no more white streaks remain. Add blueberries and stir gently (they will sink to the bottom.

Pour batter into prepared baking dish and carefully place in the hot water bath. Bake until the top is set, about 45 minutes. Cool for at least 10 minutes before serving.
Nutrition
Calories:
245
kcal
|
Carbohydrates:
40
g
|
Protein:
6
g
|
Fat:
6
g
|
Saturated Fat:
3
g
|
Polyunsaturated Fat:
1
g
|
Monounsaturated Fat:
2
g
|
Trans Fat:
1
g
|
Cholesterol:
104
mg
|
Sodium:
260
mg
|
Potassium:
158
mg
|
Fiber:
1
g
|
Sugar:
31
g
|
Vitamin A:
306
IU
|
Vitamin C:
7
mg
|
Calcium:
88
mg
|
Iron:
1
mg
Nutrition Disclaimer: I try my best to make sure the nutrition information I provide is accurate to provide you with the best information possible. However, due to ingredient discrepancies and other factors, the above nutrition information should be considered an estimation only.