These Churro Waffles are made of choux pastry, so their texture matches real churros - crisp crust, custardy interior, and cinnamon-sugar coating.
Today's recipe is very closely related to one I published recently - Honey Cruller Waffles. Although I published the Honey Cruller Waffles recipe first, the idea for both actually started with this recipe - Churro Waffles.
I had the idea to make Churro Waffles for a long time before I actually got around to doing it. When I started doing research to develop the recipe, I was disappointed to find out that all of the existing Churro Waffles recipes seemed to be just regular waffles coated in cinnamon sugar.
I wanted my Churro Waffles to resemble actual churros as closely as possible - the unique texture included.
What are churros?
Churros are made from choux pastry (or pâte à choux) that are piped into a fluted line. Then they are then deep-fried and coated with cinnamon sugar. The result is a sweet, crunchy snack, with a slightly custardy interior.
When I first tried to make churro waffles, I had no idea if it would work. I made my very first batch or choux pastry batter and put it in the waffle maker to cook. I was very pleasantly surprised. The waffles were indeed crispy on the outside, with a soft, custardy interior - just like churros.
How to make Churro Waffles:
The first step to making churro waffles is to make choux pastry, which is very much nothing like making regular waffle batter. Making choux pastry first involves heating water, butter, sugar, and salt in a saucepan until it comes to a boil.
Then you turn down the heat and add the flour to the mixture. The mixture quickly will quickly form a very stiff and sticky dough that forms a ball. Transfer this dough to a bowl and let it cool for a few minutes.
While you're waiting, you can mix together the cinnamon-sugar mixture, melt a little butter, and plug in your waffle maker.
When the dough has cooled slightly, mix in the eggs and vanilla. You'll want to make sure you have a very firm grip on the bowl and the mixer because the dough is very stiff. The dough will initially break apart and look "curdled". Keep mixing, and it will eventually come back together. Now you can cook it into waffles.
I found that it took longer to cook choux pastry in my waffle maker than regular waffle batter, so if you have a timer in your waffle maker, it probably won't be accurate for this recipe.
You'll know your churro waffles are done when the waffle maker stops steaming. Then carefully open the lid. If the waffle is golden brown, it's good to go.
Lightly brushed the cooked waffles with melted butter, and coat them with the cinnamon-sugar mixture. Serve them immediately, or keep them on a wire rack in a 200°F oven to keep them warm until they're all finished cooking.
If you like, you can serve them with caramel sauce, dulce de leche, chocolate sauce, whipped cream, or ice cream.
Churro Waffle Ingredients and Substitutions:
Making churro waffles from scratch doesn't require any unusual or uncommon ingredients. In fact, you probably already have everything you need!
Water - Tap water is fine here
Unsalted Butter - you can easily replace butter with a dairy-free butter alternative to make this recipe dairy-free
Granulated Sugar - The sugar you add to the waffle batter could be replaced with almost any other type of sweetener, but replacing it with low-calorie sweetener will likely affect the browning of the waffles. I don't recommend replacing the sugar used in the cinnamon-sugar coating with another sweetener, as it will greatly affect the texture of the coating.
Salt - I used regular table salt for this recipe.
All-Purpose Flour - I did not test this recipe with any other type of flour, and don't recommend using a different type.
Large Eggs
Vanilla Extract - Either real vanilla extract or imitation vanilla will work here.
Canola Oil - I chose canola oil for it's high smoke point and neutral flavor. You could also use vegetable oil, avocado oil, grapeseed oil, corn oil, or sunflower oil.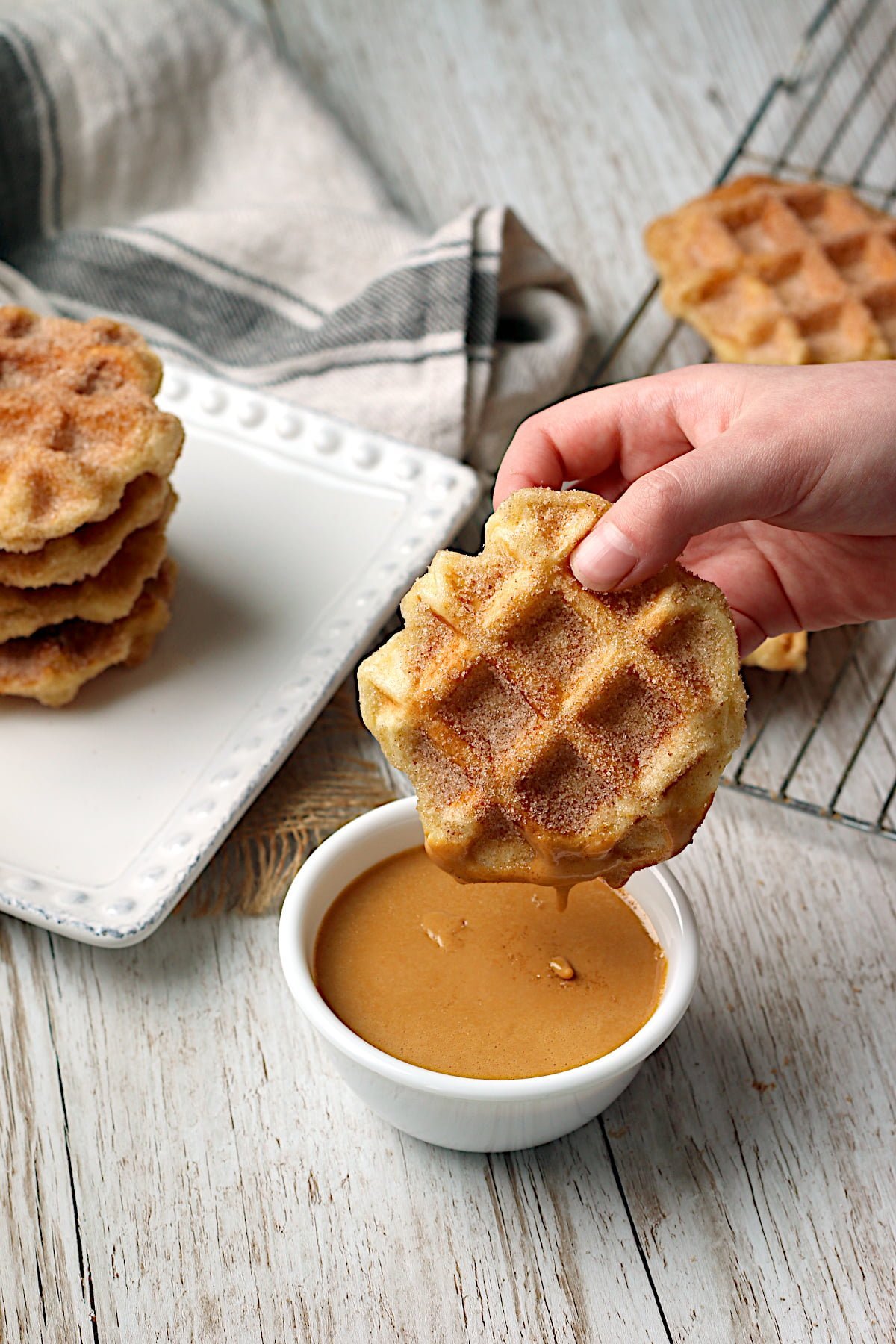 Want more Waffle recipes?
Churro Waffles Nutrition Notes:
The nutrition information in the recipe below is for one waffle if the recipe makes 10 waffles. If your waffles are smaller or larger than mine (eg. if the recipe makes more or fewer waffles), the nutrition information will vary accordingly.
Note that the nutrition information does not include any dips or garnishes that may be included with your churro waffles.
Churro Waffles
These Churro Waffles are made of choux pastry, so their texture matches real churros - crisp crust, custardy interior, and cinnamon-sugar coating.
Ingredients
Cinnamon Sugar Coating
¼

cup

granulated sugar

½

teaspoon

cinnamon

1

Tablespoon

unsalted butter

or replace with dairy-free butter alternative to make these waffles dairy-free
Waffles
1

cup

water

¼

cup

unsalted butter

or replace with dairy-free butter alternative to make these waffles dairy-free

1

Tablespoon

granulated sugar

¼

teaspoon

salt

1

cup

all-purpose flour

2

large

eggs

½

teaspoon

vanilla extract

canola oil

to grease the waffle maker
Serving Garnishes (optional - use as many as you like, or none)
dulce de leche

caramel sauce

chocolate fudge sauce or ganache

whipped cream

vanilla ice cream
Instructions
Turn the oven on to 200°F if you wish to keep all of the waffles hot while you're cooking them. If you plan to serve them immediately after each batch is done cooking, you can skip this step.

Whisk together

¼ cup granulated sugar

r and

½ teaspoon cinnamon

in a medium bowl to make the cinnamon-sugar coating. Set aside. Melt

1 Tablespoon unsalted butter

r in a small, microwave-safe bowl on high power for 30 seconds. Set aside. (You may need to re-melt it again later for a few seconds if your kitchen is cool.)

Add

1 cup water

,

¼ cup unsalted butter

,

1 Tablespoon granulated sugar

, and

¼ teaspoon salt

to a medium saucepan over medium-high heat and bring to a boil.

Reduce the heat to medium-low and add

1 cup all-purpose flour

. Stir the mixture with a rubber spatula, smoothing out any lumps of dry flour. Continue to cook and stir until the mixture is mostly smooth, with a thick, paste-like consistency, about 2-3 minutes.

Transfer the flour mixture to a mixing bowl and let it cool for 5-10 minutes.

In the meantime, crack

2 large eggs

into a small bowl or measuring cup. Add

½ teaspoon vanilla extract

and gently whisk them together with a fork. Now's also the time to get out your waffle maker and start pre-heating it.

Add the egg mixture to the bowl with the flour mixture. Beat together with a hand mixer until the egg is fully incorporated. Make sure to hold your mixer and the bowl firmly, as the batter will be very stiff (alternatively, you could use a stand mixer). Note that when you first add the eggs, the batter will intitially separate and look curdled. Keep mixing until the batter comes together. It will still be quite thick and pasty.

When the waffle maker is hot, brush or spray the surface of the waffle maker generously with canola oil. Spoon about 1-2 tablespoons of the batter into the center of each section of the waffle maker (eg mine makes two square waffles at once, so I put a total of two scoops of churro batter into the waffle maker at a time). Note that with this amount of batter, the churro waffles will be small and irregular-shaped. If you want to make full-sized waffles, you will need to use more batter and carefully spread the batter over the surface of the waffle maker, but then the recipe will make fewer waffles.

The waffles are done cooking when the waffle maker stops steaming and the waffles are golden brown on the outside. They make take a little longer to cook than the timer on your waffle maker indicates, if it has one.

While still hot, lightly brush the waffles on both sides with the melted butter, then sprinkle with the cinnamon-sugar mixture, tapping off any excess back into the bowl. Repeat with the remaining waffles.

Serve the waffles immediately with any desired garnishes, or keep them all hot in a 200°F oven while cooking the remainder of the waffles. If you need to reheat any leftover waffles, do so in a toaster oven, oven, or air-fryer as they will become soggy in the microwave.
Nutrition
Calories:
142
kcal
|
Carbohydrates:
18
g
|
Protein:
2
g
|
Fat:
7
g
|
Saturated Fat:
4
g
|
Polyunsaturated Fat:
0.4
g
|
Monounsaturated Fat:
2
g
|
Trans Fat:
0.3
g
|
Cholesterol:
38
mg
|
Sodium:
75
mg
|
Potassium:
25
mg
|
Fiber:
0.4
g
|
Sugar:
7
g
|
Vitamin A:
227
IU
|
Vitamin C:
0.004
mg
|
Calcium:
9
mg
|
Iron:
1
mg
(Visited 1,217 times, 3 visits today)