Perfect for breakfast or brunch, these corn waffles are filled with the light, delicate flavor of corn. Plus, they're made from masa, and gluten free!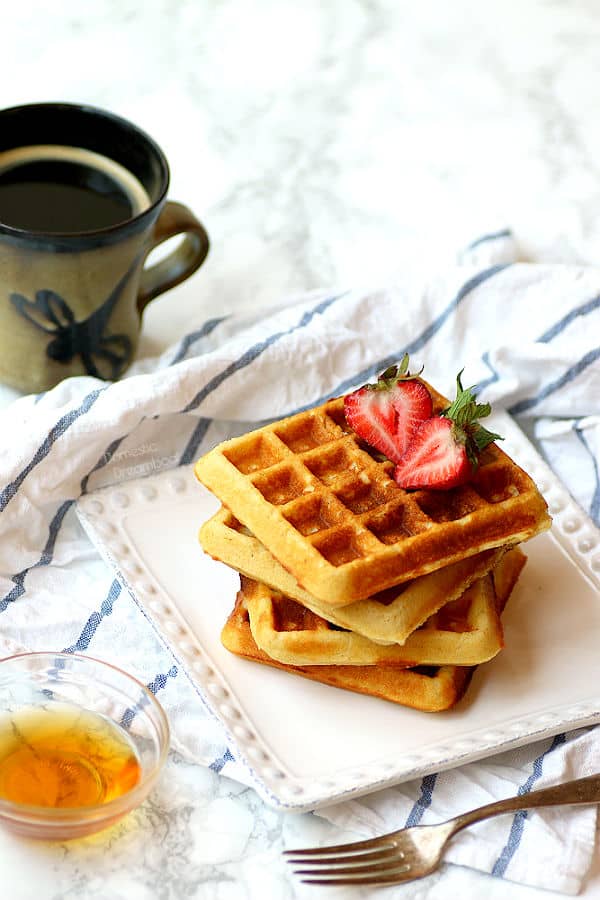 A few months ago, I tried a gluten free diet. I've written about why not everyone benefits from a gluten free diet, so I definitely don't recommend that everyone try it. However, I was experiencing symptoms and joint pain from my rheumatoid arthritis that made me wonder if I was in fact experiencing gluten intolerance. After discussing Celiac screening with my doctor, I eliminated all gluten from my diet. After 2 months and no changes to my symptoms, I decided that the diet was not beneficial for me and discontinued.
However, it was a great learning experience for me. The most surprising thing I learned is how easy it was for me to follow a gluten free diet while I was at home. On the contrary, eating at restaurants was surprisingly more difficult than I expected it to be. And I really missed beer.
At home, I was able to find many products that tasted pretty good. I developed a great love for corn tortillas. I experimented a lot with gluten free baking. I never did come up with a bread that I found pleasant in any way, but I did have success with cookies, cupcakes and waffles. Some of them I continue to make even though I no longer follow a gluten free diet. These Corn Waffles are one of them.
What I really like about these corn waffles is that they're not really trying to be regular waffles. They don't taste like regular waffles, they taste like waffles made from masa and cornmeal, which they are. And that's okay, because they taste great anyway. While I eat these waffles like I do with any other waffles - with fruit and syrup - I think they would also be great with savory toppings. Perhaps a little bit of pulled pork, or a runny fried egg with bacon and you've definitely got yourself a breakfast of champions.
Corn Waffles (Gluten Free)
Perfect for breakfast or brunch, these corn waffles are filled with the light, delicate flavor of corn. Plus, they're made from masa, and gluten free!
Ingredients
2

cups

masa harina

(eg. Maseca)

½

cup

yellow cornmeal

¼

cup

granulated sugar

4 ½

teaspoons

baking powder

½

teaspoon

salt

3

large

eggs

2 ¼

cups

milk

(see note)

¼

cup

canola oil

2

Tablespoons

butter,

melted (see note)

1

teaspoon

vanilla
Instructions
In a large bowl, whisk together masa harina, cornmeal, sugar, baking powder and salt.

In a separate large bowl, whisk eggs lightly, then whisk in the milk, canola oil, melted butter and vanilla.

Whisk the liquid ingredients into the corn mixture until smooth. Allow the batter to sit for 5-10 minutes while the waffle maker heats up. The batter will thicken. Lightly grease waffle iron, and pour batter in and cook as per the instructions of your waffle iron. Serve with your choice of fruit and/or syrup. Waffles can be frozen and stored in a zipper bag.
Notes
Use your favorite dairy free milk and butter alternative to make this recipe dairy free.
Nutrition
Calories:
122
kcal
|
Carbohydrates:
15
g
|
Protein:
3
g
|
Fat:
6
g
|
Saturated Fat:
1
g
|
Trans Fat:
0.1
g
|
Cholesterol:
34
mg
|
Sodium:
159
mg
|
Potassium:
96
mg
|
Fiber:
1
g
|
Sugar:
4
g
Nutrition Disclaimer: I try my best to make sure the nutrition information I provide is accurate to provide you with the best information possible. However, due to ingredient discrepancies and other factors, the above nutrition information should be considered an estimation only.
Corn Waffles Nutrition Notes:
The number of waffles the recipe makes, as well as the portion size and corresponding nutrition information depends on the size of your waffle maker.