A Ginger Brandy Old Fashioned adds candied ginger and ginger ale to the classic brandy cocktail. Perfect for fall and the Holidays!
Before moving to Wisconsin, I had never tried a Brandy Old Fashioned.
Sure I had heard of them, but I assumed that they were, as their name suggests, old-fashioned and that no one really drank them anymore.
However, I was wrong. In Wisconsin at least, the Old Fashioned is still, very much in fashion. I have had many since moving here. Some good, some mediocre at best.
I won't pretend that I have become an Old Fashioned expert or connoisseur, but I have come up with a version of one that I, at least, find quite appealing. Today I bring you the Ginger Brandy Old Fashioned.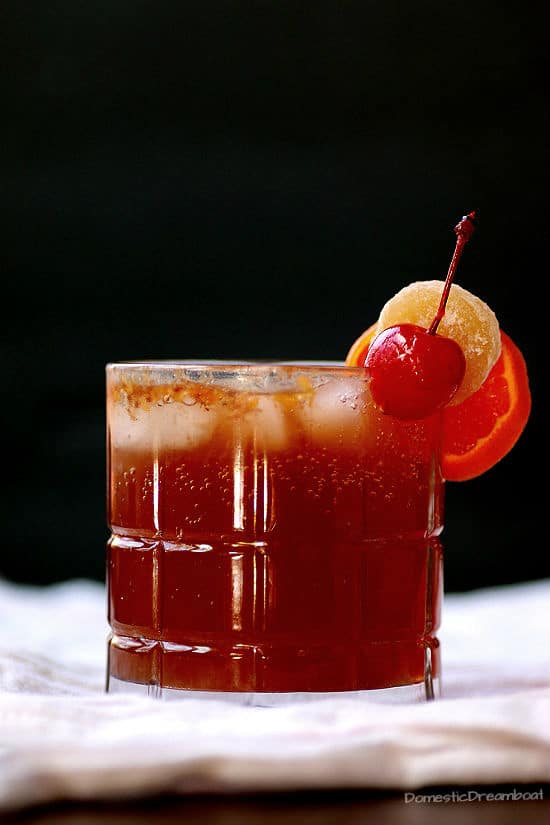 What's in an Old Fashioned?
An Old Fashioned can be made with Brandy or Whiskey (but most often with Brandy in Wisconsin), some muddled citrus, maraschino cherries, sugar, and bitters.
It may or may not be topped off with club soda or lemon-lime soda. I've been trying different variations of the recipe at home, making substitutions as needed when I run out of ingredients.
I never have lemon-lime soda at home, and I don't like it anyway, so I don't use that.
I've also tried versions with different flavors (including plain) club soda.
But I almost always have ginger ale at home, and I really like it in cocktails. I tried it in an Old Fashioned and liked it, and decided to add even more ginger.
In place of sugar, I used a slice of candied ginger. Yum, this is definitely the Old Fashioned for me!
Ginger Brandy Old Fashioned Ingredients:
Small orange
Brandy (Korbel is what is almost always used in Wisconsin)
Ginger ale
What I do find with Old Fashioneds, is that their appearance can very quite drastically.
Some versions don't use muddled fruit which results in a clearer, cleaner-looking drink.
Mine is a bit pulpy looking, since I muddled the orange, cherry, and ginger pretty aggressively and only used the top of the cocktail shaker to strain it.
However, I like the flavor that muddling the fruit provides, and the appearance is less important to me.
A note about Maraschino Cherries
The cherries you use can also greatly affect the color of your drink.
Over the past few months, I've gone through 3 different jars of maraschino cherries.
One was a regular jar that I bought in the ice cream section. It was dyed a scary-looking bright red that stained everything they touched. These resulted in a more red-colored drink (as seen in these pictures).
The other 2 jars were naturally colored - one store-bought jar that was colored with vegetable dye (I'm guessing beets) and the other was a homemade jar that was the same color as fresh cherries.
Both of these jars changed the color of the drink much less. Try these Luxardo Gourmet Maraschino Cherries if it's a special occasion. They are the original Italian maraschino cherry and don't have any food coloring that will change the color of your cocktail.
All said and done, I've seen so many different recipes for Old Fashioneds, that I don't really think there is a "right" way to make them. This is my version, and I like it. Give it a try, and see how you like it.
Want more cocktails?
Ginger Brandy Old Fashioned Nutrition Notes:
The nutrition information in the recipe below assumes that you use ½ cup of ginger ale, and that you will eat the orange slice, maraschino cherry, and candied ginger garnishes (who doesn't??)
If you're looking to cut back on calories and sugar, you could use diet ginger ale. Look for a brand that is sweetened with safe sweeteners like Stevia, and doesn't contain aspartame or sucralose.
Ginger Brandy Old Fashioned
A spin on a traditional Brandy Old Fashioned but the the slightly spicy addition of candied ginger and ginger ale. Perfect for fall and the Holidays!
Instructions
Cut the two ends off of the orange. Slice off a ¼" slice for garnish and set aside. Cut the remaining piece of orange into quarters. Place the orange pieces, one of the maraschino cherries, and one of the slices of candied ginger in a sturdy glass or cocktail shaker. Muddle well. Add

3 dashes bitters

and

1 ½ ounces brandy

, stir. Strain through the shaker or a sieve into an old-fashioned glass filled halfway with ice. Top with ginger ale and stir gently. Garnish with the orange slice and remaining cherry and ginger slice.
Nutrition
Calories:
255
kcal
|
Carbohydrates:
37
g
|
Protein:
1
g
|
Fat:
1
g
|
Saturated Fat:
1
g
|
Polyunsaturated Fat:
1
g
|
Monounsaturated Fat:
1
g
|
Sodium:
11
mg
|
Potassium:
178
mg
|
Fiber:
3
g
|
Sugar:
33
g
|
Vitamin A:
221
IU
|
Vitamin C:
51
mg
|
Calcium:
47
mg
|
Iron:
1
mg
(Visited 4,429 times, 9 visits today)