These lazy cabbage rolls are based on Ukrainian sour cabbage rolls with rice, sauerkraut and bacon, but without the extra work to roll them!
I grew up eating Ukrainian food at all the major holidays. My mom is 100% Ukrainian, so when we were with her side of the family (which was almost always for holidays) my Grandma cooked the Ukrainian dishes we knew and loved.
These dishes included things like perogies (which need no further explanation), nalysnyky (crepes filled with cottage cheese and dill), pyrizhky (buns filled with cottage cheese and dill), and of course, cabbage rolls.
What are Ukrainian cabbage rolls?
Ukrainian cabbage rolls are nothing like what probably at least 80% of you think cabbage rolls are.
They are NOT fresh cooked cabbage leaves filled with rice and beef in a tomato based sauce.
They are sour cabbage leaves (think sauerkraut) filled with rice and a little bacon. At least that's how my Grandma makes them. And, as it turns out, my mother-in-law too.
Making cabbage rolls - as with making all the Ukrainian food I mentioned - takes a lot of work and a lot of time.
So, somewhere along the way, someone came up with a shortcut and found a way to incorporate all the components of cabbage rolls without all the extra labor. I bring you Lazy Cabbage Rolls.
I do actually know how to make real cabbage rolls, and my mother-in-law often helps me make them when she's here for a holiday.
But when it's just me and my family at home, I don't usually have an hour (at least) to spend rolling up a bunch of rice into their sour cabbage leaves to make perfect little rolls.
So instead, I make some rice and throw it in the fridge overnight (or for a couple of hours). Then I cook up some bacon, onions and garlic and throw in a jar of sauerkraut. In goes the rice, and voila. Lazy cabbage rolls. I like to think of it as Ukrainian fried rice.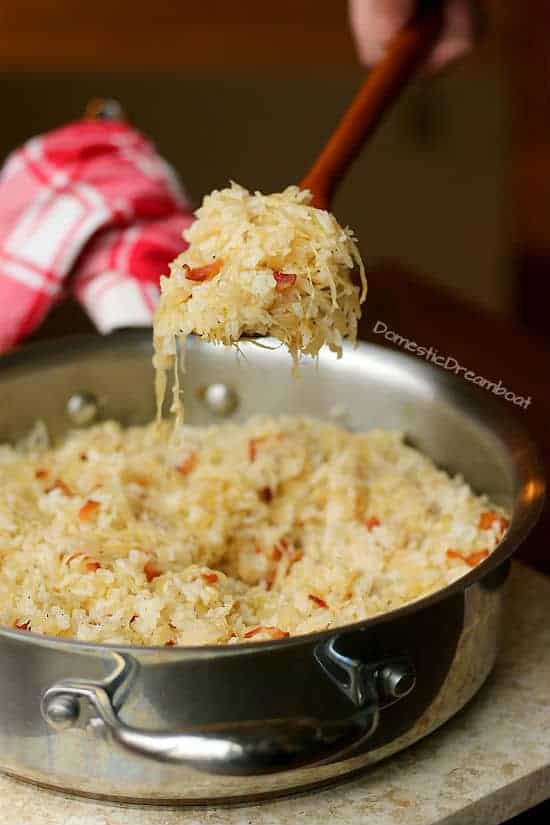 While I would (and do) make lazy cabbage rolls as a side dish for any old weeknight, I especially like to make it for holidays.
After all, that's when I would be most likely to have the real deal cabbage rolls for so many years. You can bet they'll be on my dinner table for Easter just a few short days away!
Lazy Cabbage Rolls Nutrition Notes
If you want to increase the fiber content of this dish, use brown rice instead of white.
You can also use turkey bacon instead of regular bacon to decrease fat content slightly, which is how my Grandma made her cabbage rolls for years. However, when it comes time to cook the onions, you may have to add a little oil to the pan.
Want more delicious side dishes?
Lazy Cabbage Rolls
Lazy Cabbage Rolls is the unrolled version of Ukrainian cabbage rolls made with sauerkraut and rice.
Ingredients
6

slices

bacon,

coarsely chopped

1

medium

yellow onion,

minced

2

medium cloves

garlic,

minced or pressed

24

ounce jar

sauerkraut,

drained and squeezed dry, but not rinsed

4

cups

day old or cold cooked rice

¾

teaspoon

salt

½

teaspoon

freshly ground black pepper
Instructions
Cook bacon in a 12" skillet over medium high heat until well browned and crisp, about 6-8 minutes. Transfer bacon to a plate lined with paper towel using a slotted spoon. Pour off all but 2 Tablespoons of bacon grease.

Reduce heat to medium and cook onions in the remaining bacon grease until softened, about 5 minutes. Add garlic and cook until fragrant, about 30 seconds. Add sauerkraut and cook, stirring often until heated through, about 5 minutes. Stir in rice, salt and pepper until incorporated. Cook until rice is heated through, stirring often, about 5 minutes. Stir in the bacon. Season with additional salt and pepper as desired.
Nutrition
Calories:
260
kcal
|
Carbohydrates:
37
g
|
Protein:
7
g
|
Fat:
9
g
|
Saturated Fat:
3
g
|
Polyunsaturated Fat:
2
g
|
Monounsaturated Fat:
4
g
|
Trans Fat:
1
g
|
Cholesterol:
15
mg
|
Sodium:
1188
mg
|
Potassium:
306
mg
|
Fiber:
4
g
|
Sugar:
3
g
|
Vitamin A:
30
IU
|
Vitamin C:
18
mg
|
Calcium:
53
mg
|
Iron:
2
mg
Nutrition Disclaimer: I try my best to make sure the nutrition information I provide is accurate to provide you with the best information possible. However, due to ingredient discrepancies and other factors, the above nutrition information should be considered an estimation only.