This Old Fashioned Pink Popcorn is the homemade version of the pink popcorn you bought as a kid. It's lightly candy-coated and with a fun pink color.
What is Pink Popcorn?
If you grew up in Canada, especially if you are a certain age (say, born after 1985), you likely remember Lucky Elephant Pink Popcorn.
Even if you haven't tried it, and you like sweet popcorn, you should definitely try this Old Fashioned Pink Popcorn.
It's a lightly candy-coated, slightly vanilla flavored popcorn with a festive pink color.
I suppose you could make it any color you want, or skip the coloring altogether, but pink is definitely the traditional version.
How do you make pink popcorn?
When I first learned that you could make this tasty treat from my childhood, I was a little intimidated, thinking it would be much more difficult than it actually is. Turns out it's not very hard at all.
There is a bit of a trick to it though. Make sure you have your popcorn completely popped and ready in a large bowl before your syrup is ready.
You don't want the syrup hardening up on you while you're waiting for popcorn to pop. You need plain popcorn kernels for this recipe which you can easily pop using an air popper.
I did try this recipe a couple of times to get an optimal candy-popcorn ratio. The recipe I have posted here is most similar to the Lucky Elephant popcorn I remember eating as a child.
However, if you want yours less sweet, use more popcorn. If you have a major sweet tooth and you want sweeter popcorn, use less popcorn, just note that it will take longer to dry or harden.
The first time I made this, it had a much thicker candy coating and it took much longer (overnight) to dry. The recipe I have posted here dried very quickly, almost immediately.
However, it may depend on humidity. If yours doesn't seem to be setting up, don't worry too much, just leave it uncovered at room temperature for a few hours or a day or so until it does.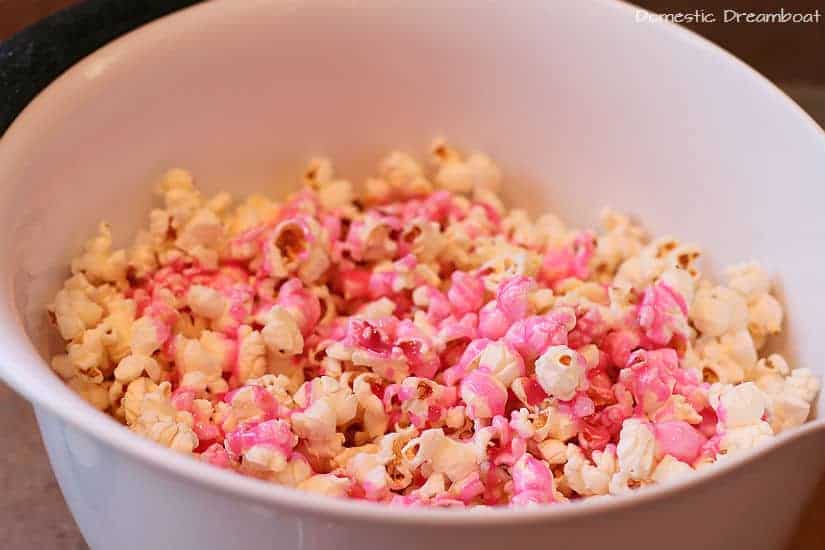 Pink Popcorn Ingredients:
Whole milk or half and half cream
White/light corn syrup
Salt
Granulated sugar
Vanilla
Wilton Color Gel in Rose food coloring
Pink Popcorn Special Equipment:
Warning: if you leave it sitting out, uncovered, it will likely disappear quickly. You and your family will not be able to resist this sweet crunchy treat.
You can, however, store it in an airtight container at room temperature for up to a couple of weeks.
Because of the pretty pink color of this popcorn, I think it's perfect for Valentine's day.
If your kids (or you) hand out goodies for Valentine's day, I think this is a great slightly healthier treat. You could package it in a little baggie tied with a red or pink ribbon. How cute is that?
Old Fashioned Pink Popcorn Troubleshooting:
Why won't my popcorn dry?
If the coating on your pink popcorn doesn't dry, it could be due to one of two things:
1. Not reaching the correct temperature when boiling the syrup coating. It's crucial for candy-making to reach the temperatures listed in recipes. If temperatures are not reached, candies (including the coating in this recipe) may not harden properly which could result in a sticky coating. Make sure you use a candy thermometer to make your coating.
2. The weather/humidity. If you live in a very humid climate, or make this on a particularly humid day, the popcorn may not harden. In this case, you could try putting it in a very low-temperature oven, making sure to check it often.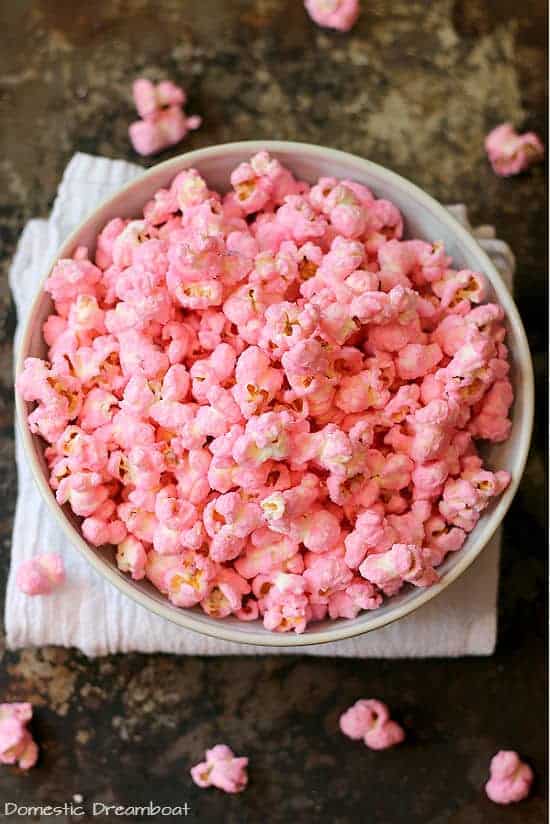 Want more Popcorn recipes?
Old Fashioned Pink Popcorn Nutrition Notes:
For one cup of this popcorn, you're looking at around 100kcal (which is the perfect amount for a small snack), and 1g of fiber.
Since popcorn is a whole grain, you can consider this a healthier treat. Just keep in mind that it does have a fair bit of added sugar. But it's definitely better than candy!
Old Fashioned Pink Popcorn
Just like the Lucky Elephant brand pink popcorn you remember eating as a kid. It's easy to make at home, and makes a great healthier Valentine's day treat.
Ingredients
6

ounces

popcorn kernels

⅔

cup

whole milk or half and half

1

Tablespoon

white corn syrup

¼

teaspoon

salt

2

cups

granulated sugar

1

teaspoon

vanilla

pink food coloring

I use Wilton Color Gel in Rose to get the perfect shade
Instructions
Pop

6 ounces popcorn kernels

using an air popper or in a pot. This makes a large amount (about 24 cups) of popcorn, so you may have to do it in 2 batches. Place the popcorn into one or two large bowls and set aside.

Stir

⅔ cup whole milk or half and half

,

1 Tablespoon white corn syrup

, and

¼ teaspoon salt

together in a small saucepan. Pour

2 cups granulated sugar

into the center of the saucepan, being careful not to get any on the sides of the pot. Bring to a boil over medium heat, stirring until sugar is completely dissolved.

Stir occasionally until mixture reaches 230°F on an instant-read or candy thermometer. Remove from heat and stir in

1 teaspoon vanilla

and pink food coloring (several drops of red should do, or about ½ a toothpick dipped into gel color).

Working quickly, pour sugar mixture evenly over popcorn and stir until the popcorn is evenly coated. Spread popcorn over 2 large baking sheets to dry. Once popcorn is completely dry, store in airtight bags or containers.
Nutrition
*Recipe barely adapted from Nan's Recipe Spot
(Visited 8,089 times, 14 visits today)