Making Homemade Jello from real fruit juice is just as easy as making it from a boxed mix! Bonus, choose whatever flavor you want!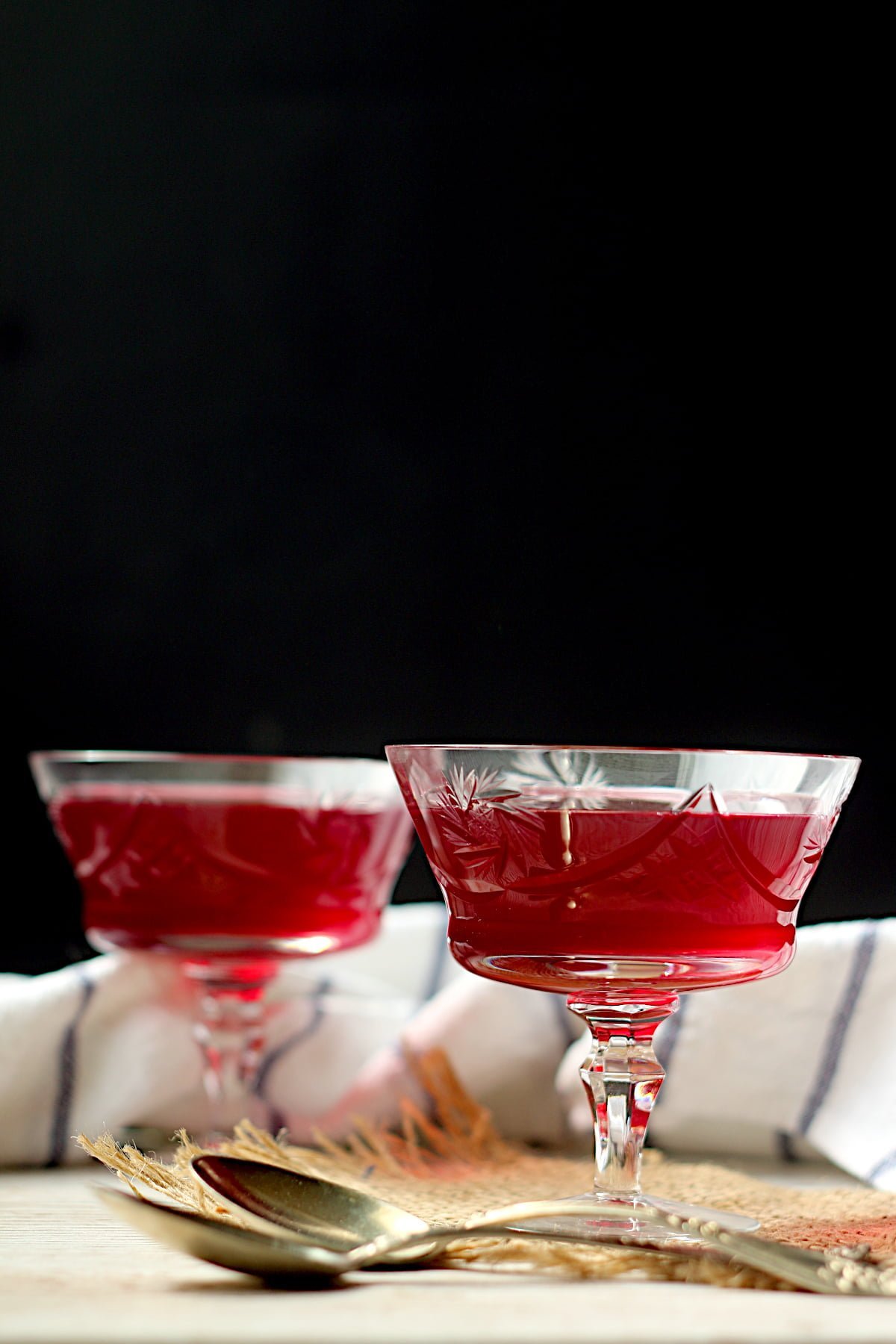 Jello is just one of those nostalgic foods. If you're from North America (and probably even if you're not), I'm guessing there's a very good chance that you ate Jello when you were a kid. Maybe you still do on occasion.
And it's versatile! Need a quick lunchbox treat? Jello. Just had surgery? Jello. Need a fun bachelorette party gimmick? Jello with alcohol. It's good for any situation really.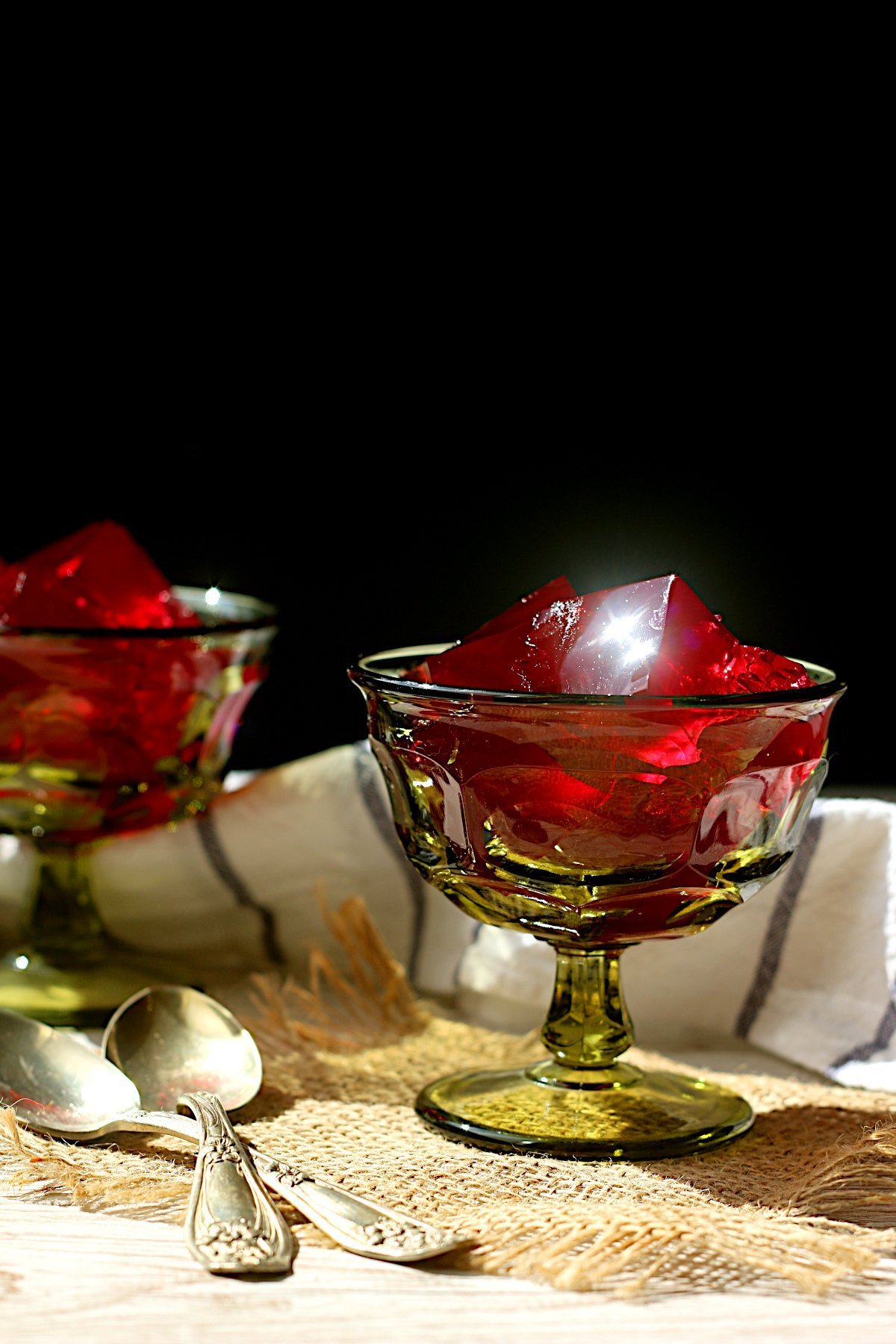 What exactly is Jello?
The Jello that comes from a boxed mix is a mixture of granulated gelatin, sweetener (sugar for regular versions, aspartame and/or acesulfame-potassium for no-sugar-added versions), flavoring (could be natural and/or artificial), and colors (could be natural and/or artificial, depending on what country you're in).
This powder is mixed with water (usually hot to dissolve it, then cold to cool it down so it can begin to gel) to make the jelly treat we're all familiar with.
So while Jello is easy, and tastes great, it's not really much more than gelatin and sugar. This, and being limited to the available (often artificial tasting) flavors that the boxes came in had me wondering if I could make jello from REAL fruit juice. I decided to try.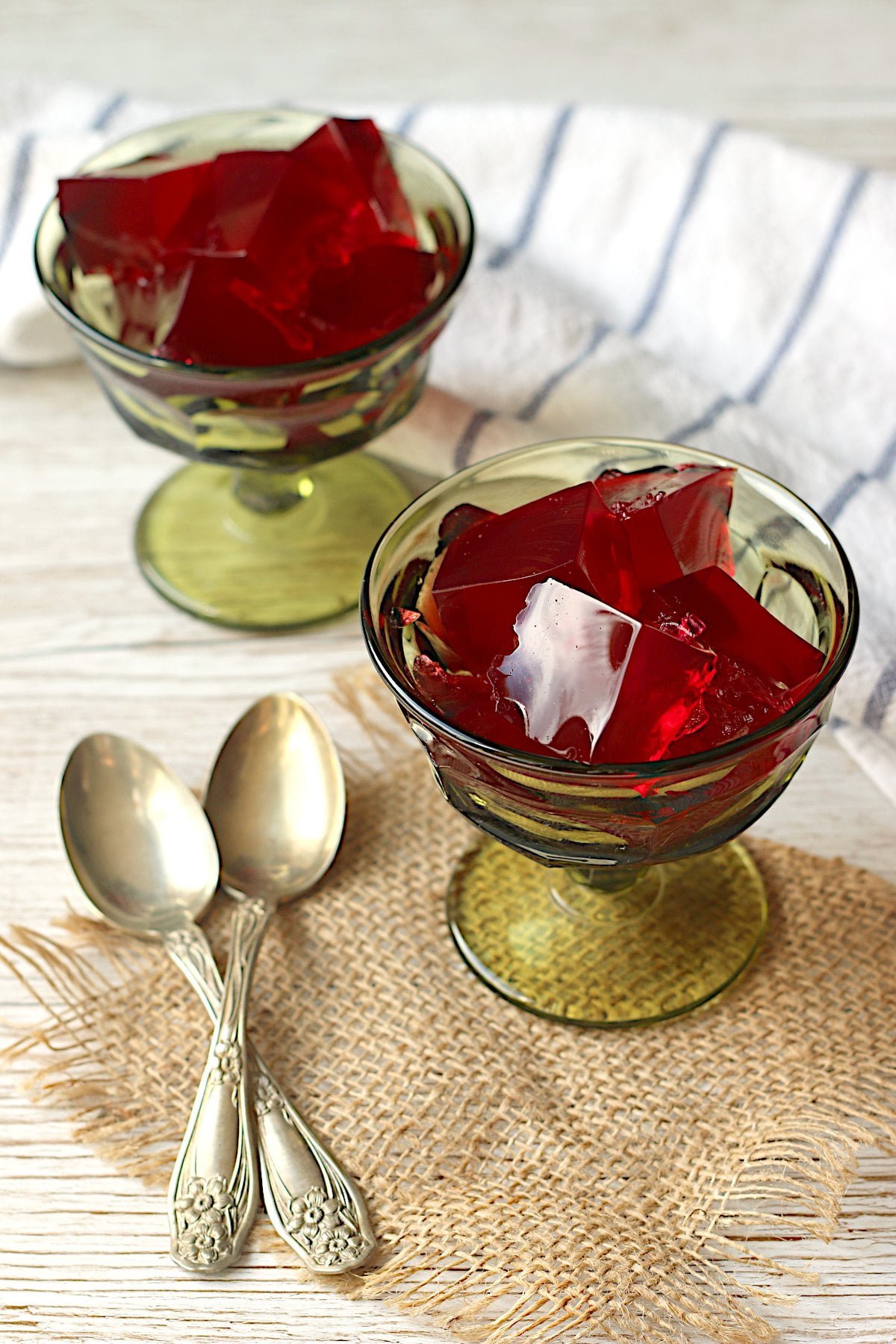 How do you make Jello from real fruit juice?
It turns out that making homemade jello at home using real fruit juice is very easy. In fact, fruit juice jello is almost as easy as making it with the boxes that we're all used to!
Homemade Jello Ingredients:
Making jello with fruit juice is so simple, you only need two ingredients:
Powdered plain gelatin - you can find plain gelatin in any grocery store. It will be located in the baking aisle, or beside the flavored jello products. It will either come in boxes that contain small packets of gelatin, or larger cartons of gelatin that you measure yourself. If you plan to make homemade jello often, buy the larger carton as is the the more economical choice in the long run.
Fruit juice - this is where you get to let your creativity shine. Make any flavor of jello you want! However, there are some fruits that contain enzymes that prevent gelatin from setting (see FAQ's below). To be on the safe side, choose juice that has been heat-treated so any enzymes have been deactivated. You know juice has been heat-treated if it's on the regular grocery store shelf. Juice that's sold in the fridge has generally NOT been heat-treated.
The process to make your homemade jello is just as easy as the ingredients. Start out with chilling at least some of your juice. If it's not cold when you plan to start making it, put it in the freezer to chill it more quickly. Just make sure it's not in there long enough to freeze. Sprinkle the gelatin over the cold juice and let it sit. It will begin to thicken.
The rest of the juice will be heated up to dissolve the gelatin. You can use either a small saucepan and your stove, or a bowl or measuring cup and your microwave.
Simply stir the hot juice into the gelatin mixture until it dissolves. Transfer it into the container(s) you want the jello to set in, and move it to the fridge.
Note that this recipe makes jello that is fairly firm. I like to make it in a square baking dish and cut it into cubes. It also works well when it's poured into individual bowls or cups to set. Pro-tip: pour some into small glass food containers with well-fitting lids for your kids to take into their lunch boxes.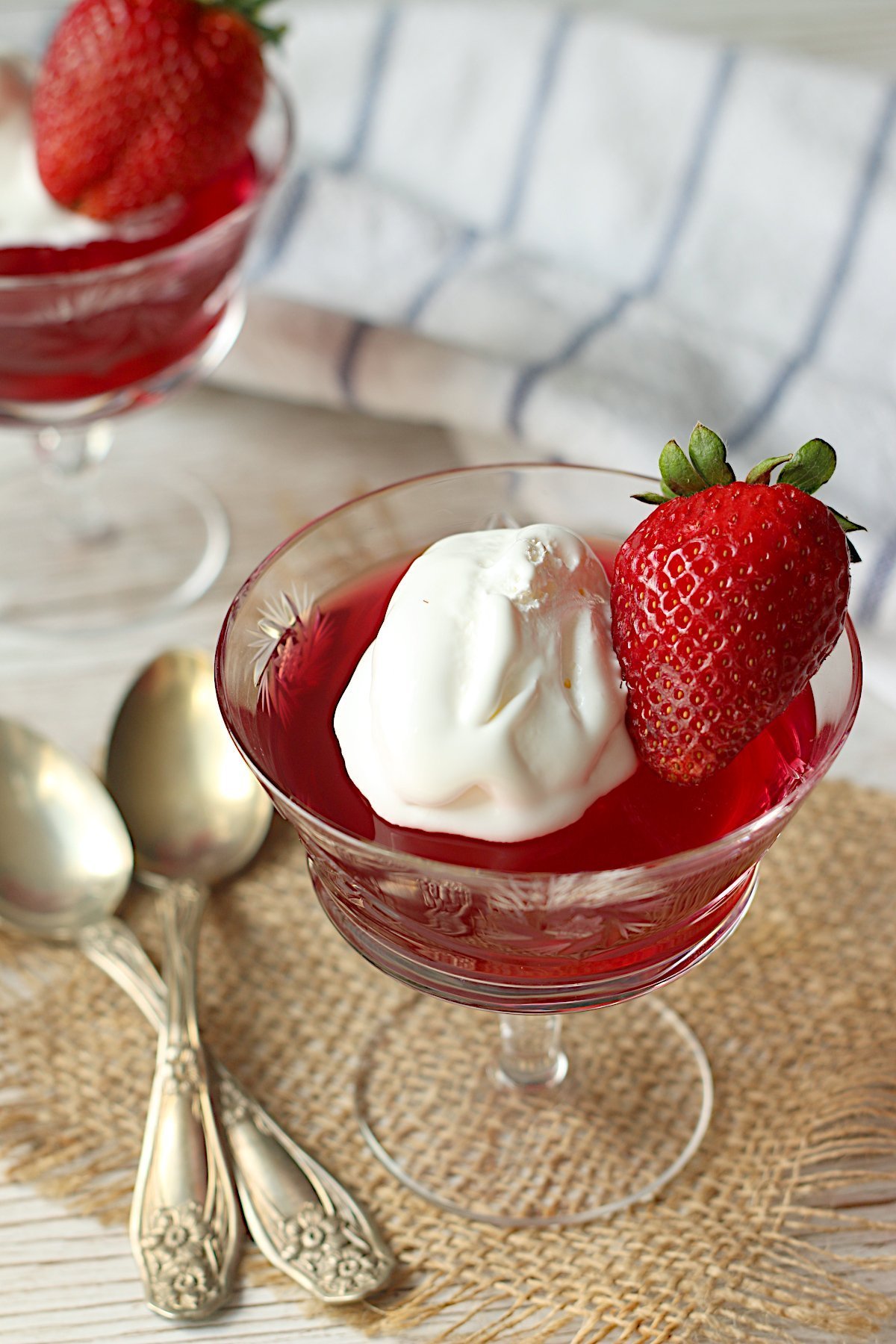 Jello FAQ's:
Can you make Homemade Jello with alcohol?
Why yes, yes you can. Just keep these tips in mind for the best flavor, texture, and safety:
- Keep the alcohol content of your jello the same as you would if you were mixing yourself a cocktail (a good rule of thumb is 1oz of alcohol per serving). In other words, you want to avoid your jello cocktail being too strong.
- Make sure you consider the alcohol that you're adding to your gelatin as part of the liquid. If you simply mix up your homemade jello as directed in the recipe, then stir in the alcohol at the end, the ratio of liquid to gelatin will be off, and your jello may not set properly.
- Add the alcohol to your jello mixture with the chilled part of the liquid. Avoid heating the alcohol as it evaporates more readily than water.
- For the best flavor, make your alcohol-containing jello with relatively sweet beverages that have lots of flavor. I think margaritas would be an excellent option.
- Keep your alcohol-containing jello away from kids, and/or make sure they are aware that it is not safe for them to eat.
Can you add fruit to jello?
Yes! If you do decide to mix cut up fruit into your jello, make the gelatin as directed in the recipe.
After you've put the gelatin in the fridge to set, start a timer. Check on it after about 15 minutes. If it's slightly cooled and beginning to thicken, add the fruit. If not, let it chill for another 10-15 mintues, then add the fruit.
Note that some fruits contain enzymes that prevent gelatin from gelling:
- pineapple
- papaya
- kiwi
- figs
- mango
- guava
- ginger root
Avoid adding these fruits (or juices from these fruits) to your jello. Alternatively, use heat-treated versions of these fruits or juices, as the enzymes will be de-activated. If these fruits are canned, or sold as shelf-stable, you know they've been heat-treated and are safe to add to your gelatin.
Want more nostalgic dessert recipes?
Homemade Jello Nutrition Notes:
The nutrition information of the jello you make depends very much on the juice you choose (I used apple juice to calculate the nutrition facts in the recipe below).
It is completely possible to make jello from an artificially sweetened beverage, which will result in the sugar and calorie contents being much lower than jello made with a sugar-sweetened beverage.
If you're concerned about the sugar and/or calorie content of the jello you're making, choose a juice/beverage that fits with your nutritional requirements to make your jello.
Homemade Jello - Made with Real Fruit Juice
Making Homemade Jello from real fruit juice is just as easy as making it from a boxed mix! Bonus, choose whatever flavor you want!
Ingredients
¼

cup (4 envelopes)

unflavored gelatin powder

4

cups

cold fruit juice

divided (see note)

whipped cream and/or fresh fruit

to serve (optional)
Instructions
Pour 2 cups of the cold juice into a medium bowl. Sprinkle the gelatin over the cold juice and let sit for a few minutes (don't stir). The mixture will thicken.

Pour the remaining 2 cups of the juice into a heat-proof bowl or measuring cup. Heat the juice on high until it is very hot (almost boiling). Alternatively, heat the juice in a small saucepan on the stove. Pour the hot juice over the gelatin-juice mixture and stir to dissolve.

Transfer the bowl to the fridge to set. Alternatively, pour it into a glass baking dish (either 9x9" or 9x13" will work) or small individual bowls or cups to set. If you use a baking dish, the gelatin will be firm enough to cut into cubes when set. Refrigerate the dish(es) to set the gelatin (at least 1 hour, possibly more depending on the container(s) you choose). Serve with whipped cream and/or fresh fruit if desired.
Notes
Depending on your choice of juice, you can add a little extra sugar or sweetener if needed.
To be safe, it's best to use juice that has been heat-treated to avoid the presence of enzymes that may prevent the gelatin from setting. Heat-treated juice can be found on the shelf in the grocery store, vs. juice that is sold refrigerated.
Nutrition
Calories:
82
kcal
|
Carbohydrates:
14
g
|
Protein:
6
g
|
Fat:
1
g
|
Saturated Fat:
1
g
|
Polyunsaturated Fat:
1
g
|
Monounsaturated Fat:
1
g
|
Sodium:
19
mg
|
Potassium:
126
mg
|
Fiber:
1
g
|
Sugar:
12
g
|
Vitamin A:
1
IU
|
Vitamin C:
1
mg
|
Calcium:
14
mg
|
Iron:
1
mg
Nutrition Disclaimer: I try my best to make sure the nutrition information I provide is accurate to provide you with the best information possible. However, due to ingredient discrepancies and other factors, the above nutrition information should be considered an estimation only.
(Visited 6,644 times, 5 visits today)