This Spiced Orange Whisky Sour features orange juice, fresh ginger, and cinnamon to give it a warm, spicy flavor that complements the whisky perfectly.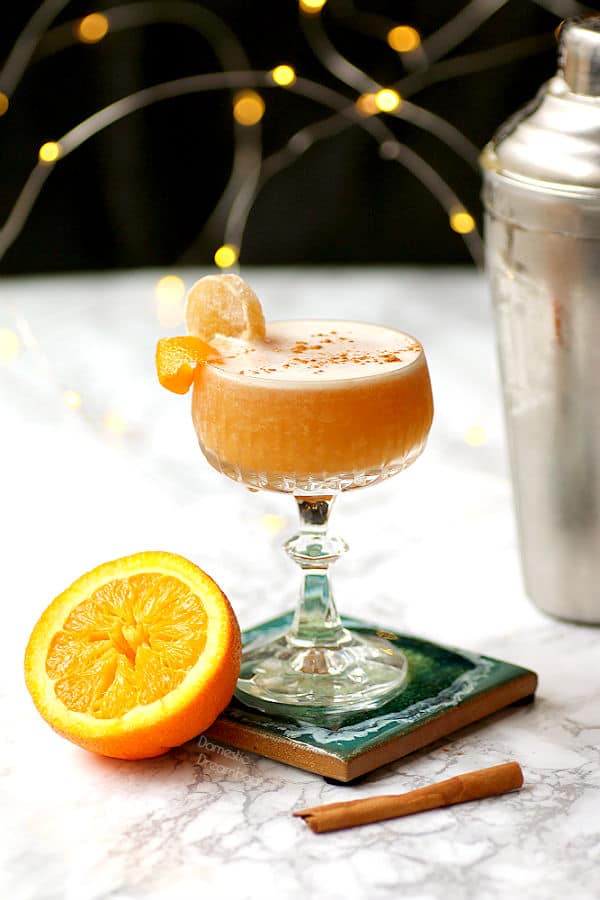 The "sour" category of cocktails is one of my very favorite types of cocktails. They include many popular drinks like margaritas, daiquiris, amaretto sours, and whisky sours. Including this one, the Spiced Orange Whisky Sour.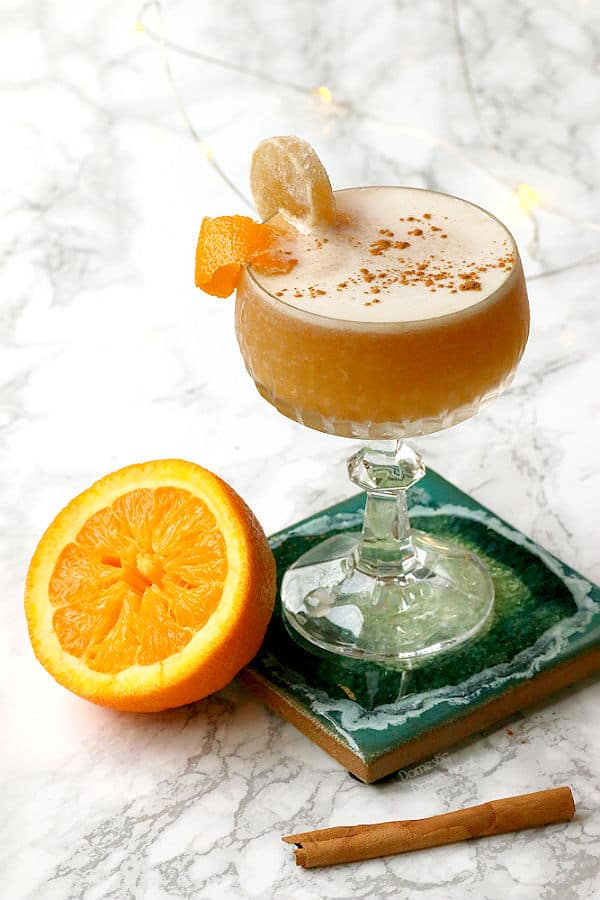 What is a whisky sour?
While these drinks all have different flavors and different recipes, they all follow the same basic formula. A classic "sour" cocktail follows this basic formula:
3 parts liquor (1 1/2 – 2 ounces)
1 part "sweet" (1/2 – 3/4 ounce)
1 part "sour" (1/2 to 3/4 ounce)
The "sweet" part of the recipe is usually a simple syrup or sugar of some kind. In the case of this recipe, I use superfine sugar because it dissolves easily, but doesn't require the extra step of making and storing simple syrup.
The "sour" part is usually a citrus juice of some kind. In this case, orange juice, it could also be lemon, lime, or cranberry juice.
The type of liquor can also vary. Obviously this recipe uses whisky. Others use tequila (margaritas), rum (daiquiris), amaretto (I think you know where I'm going here).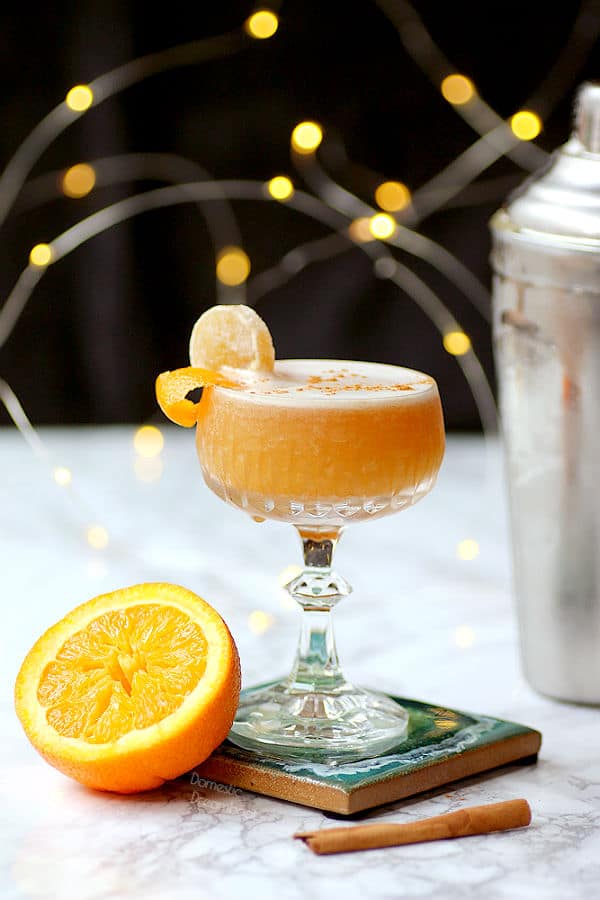 The reason I love sour cocktails is because they are so simple and easy to make. They require few ingredients, and take only minutes, and a quick shake to make.
They are also very versatile. While some, like margaritas and daiquiris are often thought of as summer drinks, this whisky sour is perfect for fall and winter. The ginger and cinnamon give this cocktail a warm, spicy flavor that is not only perfect for the colder months, but also very well suited for holiday get togethers.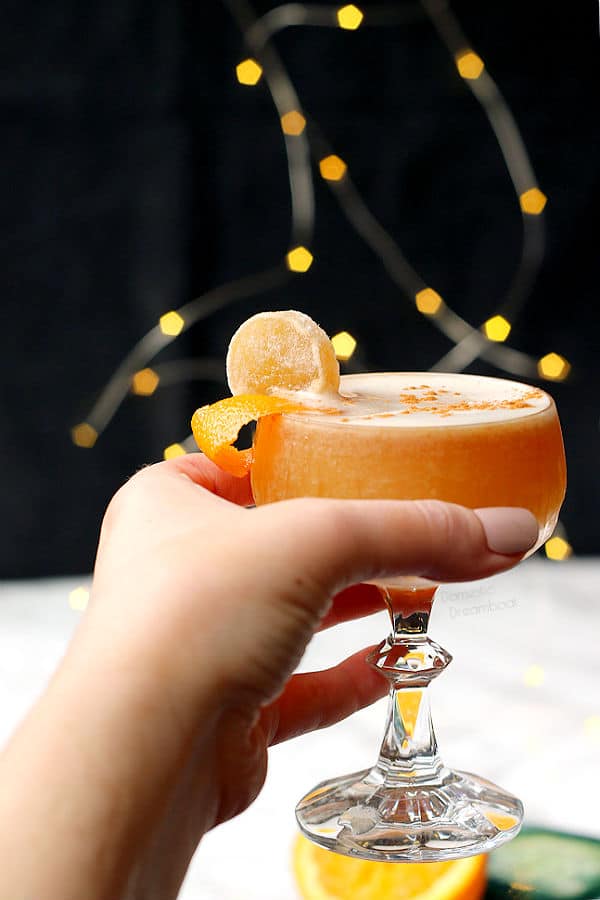 Spiced Orange Whisky Sour Nutrition Notes:
Like most cocktails and alcoholic beverages, the calories in this drink come mostly from the alcohol (in this case, whisky), sugar, and juice used in the drink. Drink all alcoholic beverages in moderation.
Want more cocktail recipes?
Spiced Orange Whisky Sour
This Spiced Orange Whisky Sour features orange juice, fresh ginger, and cinnamon to give it a warm, spicy flavor that complements the whisky perfectly.
Ingredients
1/4

cup

orange juice

(preferably freshly squeezed)

1 1/2

ounces

whisky

1

Tablespoon

aquafaba

(the liquid from cooked or canned chickpeas, optional)

1

teaspoon

superfine sugar

(see note)

1/4

teaspoon

freshly grated ginger

1/8

teaspoon

ground cinnamon

(plus extra for garnish)
Instructions
Combine the orange juice, whisky, aquafaba, sugar, ginger, and cinnamon together in a cocktail shaker with no ice. Shake vigorously for 10-15 seconds. Add enough ice so that the shaker is about 3/4 full and shake again for 10-15 more seconds. Strain into A coupe or old fashioned glass and garnish with an orange peel twist, candied ginger, cinnamon stick, or additional ground cinnamon as desired.
Notes
The aquafaba is optional, but if you don't use it, the drink will have a thinner consistency and no foam on the top.
You can make your own superfine sugar by grinding regular granulated sugar in a food processor or coffee grinder until it reaches a powdered consistency. Store any excess in an airtight container for future cocktail making.
Nutrition
Serving:
120
mL
|
Calories:
146
kcal
|
Carbohydrates:
12
g
|
Sodium:
2
mg
|
Sugar:
9
g