Making your own Chocolate Hazelnut Spread is way easier than you think, and it tastes great! Nutty and chocolaty with a little sweetness.
Nutella is a staple in my household. My kids love it on toast or toasted crumpets. I love to dip bananas or strawberries in it for dessert.
But let's face it, Nutella isn't exactly healthy. There is more sugar in it than hazelnuts, and more sunflower oil than cocoa.
But that chocolate hazelnut combo is delicious and hard to resist. Luckily, it's easy to make your own healthier version of Chocolate Hazelnut Spread (aka Homemade Nutella) at home.
Chocolate Hazelnut Spread Ingredients:
The ingredient list to make chocolate hazelnut spread is short, and just what you'd expect to see in this nutty, chocolately spread, with none of the added fillers
roasted hazelnuts
powdered sugar
cocoa powder
neutral flavored or hazelnut oil
vanilla
salt
If you can find them in the store, starting with roasted, blanched hazelnuts will save you the extra steps of roasting the hazelnuts and removing their skin.
Not to worry though, if all you can find is raw hazelnuts, it will only take about 15 extra minutes to roast them, and a little elbow grease to remove the majority of the skin.
You will definitely need a food processor, which does a great job of turning the hazelnuts in to nut butter, then mixing in the rest of the ingredients to get the sweet, nutty spread that you'll want to put on everything.
Now, let me add that I was very skeptical of homemade chocolate hazelnut spread before I actually tried it. First off, I am not usually the biggest fan of natural nut butters, and that was what I was expecting from this recipe.
Second of all, how could anything actually be better than Nutella?? Well, this stuff is. Obviously the texture is not the same - it's got a slightly grittier, more natural texture, which is less pronounced if you start with blanched hazelnuts. It's not perfectly smooth as frosting like Nutella is.
And the flavor is so much better! Definitely nuttier, as Nutella has more sugar than it actually does hazelnuts. I definitely regret telling Hubby to taste my homemade version, because now it's going to be gone before I know it! He actually said that he was thinking about it while he was at work, it was that good!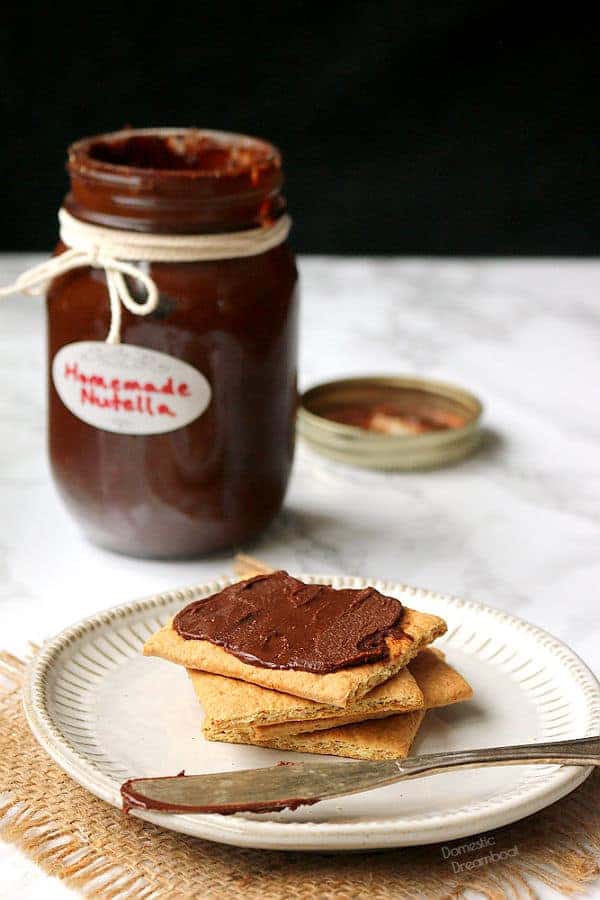 Chocolate Hazelnut Spread Nutrition Notes:
Making chocolate hazelnut spread at home saves you a lot of sugar, but the fat is slightly higher than the store bought version. Not to worry though, as it's mostly heart healthy unsaturated fat.
This homemade treat is also higher in fiber and protein because it's made with real hazelnuts.
As an added bonus, chocolate hazelnut spread is dairy free and vegan, neither of which is true for the store bought version.
Want more tasty condiments?
Chocolate Hazelnut Spread
Making your own Chocolate Hazelnut Spread is easy, and tastes great! Strong nutty and chocolaty flavors with a bit of sweetness. So much better than store bought!
Ingredients
2

cups

raw hazelnuts or blanched, roasted hazelnuts

(see note)

¾

cup

confectioners sugar

⅓

cup

cocoa powder

2

tablespoon

canola or hazelnut oil

(see note)

1

teaspoon

vanilla

⅛

teaspoon

kosher salt
Instructions
If using raw hazelnuts: Move oven rack to middle position and heat oven to 375°F. Spread hazelnuts on a rimmed baking sheet and roast 10-12 minutes until golden brown. Allow to cool until cool enough to handle.

Transfer hazelnuts to a large container with a tight fitting lid, or a medium bowl with a second bowl placed on top. Shake hazelnuts vigorously to remove skin. Remove hazelnuts that have minimal skin left. Repeat until most of the hazelnuts are peeled.

Transfer peeled hazelnuts to a food processor. Process until the hazelnuts form a smooth, buttery paste. Add the sugar, cocoa, oil, vanilla and salt to the food processor. Process until the paste is smooth and glossy.

Store the chocolate hazelnut spread in an airtight container at room temperature for a more liquid consistency or in the fridge for a more solid spread. It will keep for one month.
Notes
If you are using raw hazelnuts, follow the first two steps of the instructions. If you can find roasted blanched hazelnuts, skip the first two instructions steps.
Hazelnut oil can be used instead of canola for a stronger hazelnut flavor, if preferred. Alternatively, any mild flavored oil will work.
Nutrition
Serving:
2
Tablespoons
|
Calories:
190
kcal
|
Carbohydrates:
13
g
|
Protein:
4
g
|
Fat:
16
g
|
Saturated Fat:
1
g
|
Sodium:
27
mg
|
Fiber:
3
g
|
Sugar:
9
g
Nutrition Disclaimer: I try my best to make sure the nutrition information I provide is accurate to provide you with the best information possible. However, due to ingredient discrepancies and other factors, the above nutrition information should be considered an estimation only.
*Note: Recipe from America's Test Kitchen DIY Cookbook