If you want some lemon jello but don't have a box on hand, make DIY Lemon Jello! It's easy and takes only 3 ingredients plus regular water.
I was recently trying to do some recipe testing to make a lemon dessert (this recipe will be coming soon). But the recipe called for a box of lemon Jello. For whatever reason, my regular grocery store didn't have it. Neither did a couple of other nearby stores.
Since making my own jello from scratch isn't exactly new to me, I decided to call off the attempts to find it in the store, and just make it myself. However, I knew that it wouldn't be as simple as just mixing juice with gelatin powder, since lemon juice needs to be mixed with sugar and water to make it drinkable (or, in this case, edible).
The first batch I made wasn't quite right - the texture was good, but it tasted bland. Not very lemony, and not sweet enough. I added more lemon juice and sugar to the next batch, and it was just right!
How to make DIY Lemon Jello:
If you've ever made homemade jello from juice, you know how easy it is. Making lemon jello does have the extra added step of measuring out lemon juice, sugar, and water, but it's still very easy.
When working with plain gelatin, it needs to be sprinkled on top of some cold water to hydrate for a few minutes. While you're waiting, you can start mixing up the lemon juice, sugar, and remaining water.
You will also need to heat this mixture up in order to dissolve the gelatin, but avoid bringing it to a boil. I heated mine in the microwave just until it was steaming. Then simply pour it over the hydrated gelatin and stir until it dissolves.
At this point, you could add yellow food coloring if you want to. I opted not to, and my jello turned out a slightly cloudy pale yellow color. If you want that bright lemon-yellow color, simply add a tiny bit of gel coloring.
Now all that's left to do is pour the mixture into whatever container you want to let it set in. I like to pour mine into a shallow square or rectangular container and cut it into cubes when it's set.
You could also pour it into individual dessert cups or bowls and let it set right in there. Just make sure to cover whatever container you're using to avoid a leathery film from forming on the top.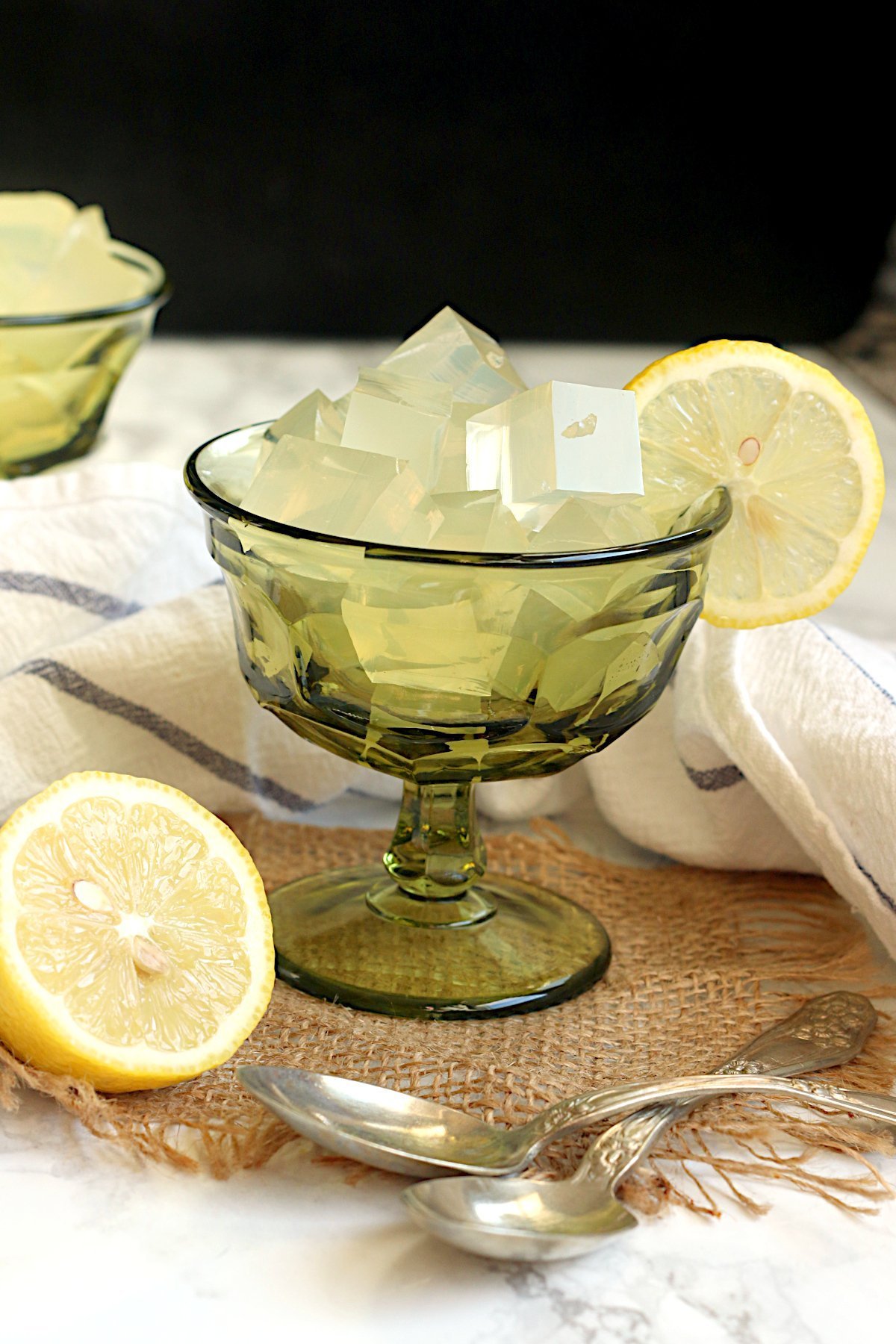 DIY Lemon Jello Ingredients:
Water (tap water is fine here, or use whatever water you would normally drink)
Unflavored gelatin powder (note that if you are using the Knox gelatine packets, use two packets). You can buy gelatin powder at most grocery stores. It is commonly available in boxes of small packets, or you might find it in larger containers. This works out to be the most affordable option if you're going to use gelatin often. I buy mine from Bulk Barn.
Lemon juice - freshly squeezed lemon juice is the best, but bottled works just fine too.
Granulated sugar
Yellow food coloring (this is totally optional. If you want your DIY Lemon Jello to be bright yellow like the traditional boxed stuff, you will want to use a little bit. Otherwise, it will come out as a very pale yellow color, like mine in the photos).
Want more Lemon dessert recipes?
DIY Lemon Jello Nutrition Notes:
The nutrition information in the recipe below is for ¼ of the recipe. DIY Lemon Jello (just like the boxed stuff) is a fairly low-calorie dessert, with almost all of the calories coming from sugar.
Note that gelatin is made from animal products and is not vegetarian.
DIY Lemon Jello
If you want some lemon jello but don't have a box on hand, make DIY Lemon Jello! It's easy and takes only 3 ingredients plus regular water.
Instructions
Pour 1 cup of the water into a medium bowl. Sprinkle

2 Tablespoons unflavored gelatin powder

over the water and allow it to hydrate, about 5 minutes.

Meanwhile, mix

6 Tablespoons lemon juice

and

6 Tablespoons granulated sugar

together in a heat-proof measuring cup. Add enough water to make 1 cup of liquid in total (you will need approximately ½ cup of water). Heat in the microwave on high heat until very hot and steaming, about 1 ½ to 2 minutes.

Pour the hot lemon juice mixture over the gelatin mixture and stir until dissolved, about 1 minute. Pour into an airtight container or into individual bowls and cover with plastic. Place into the fridge to set. Allow to chill fully, at least 2 hours.
Nutrition
Calories:
86
kcal
|
Carbohydrates:
19
g
|
Protein:
3
g
|
Fat:
0.1
g
|
Saturated Fat:
0.01
g
|
Polyunsaturated Fat:
0.01
g
|
Monounsaturated Fat:
0.01
g
|
Sodium:
12
mg
|
Potassium:
24
mg
|
Fiber:
0.1
g
|
Sugar:
19
g
|
Vitamin A:
1
IU
|
Vitamin C:
9
mg
|
Calcium:
6
mg
|
Iron:
0.1
mg
(Visited 339 times, 8 visits today)